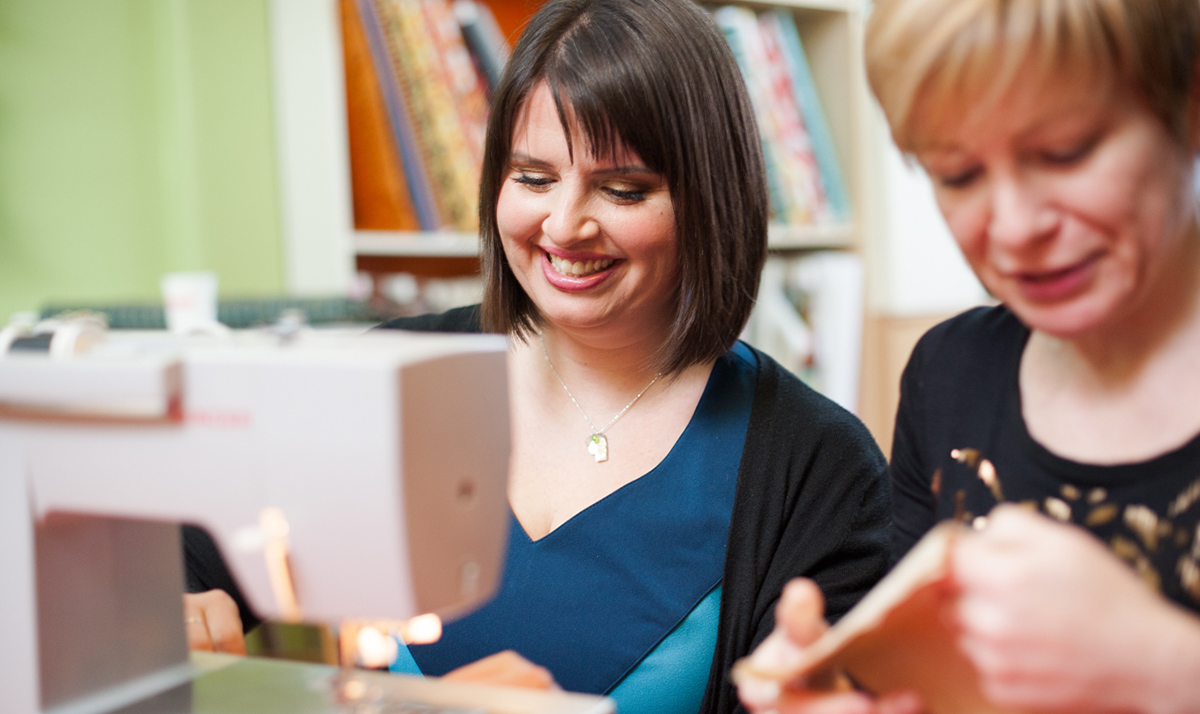 Megan – Do you Still Teach Sewing Classes?
This is a question I get asked fairly often and the answer (so far)  is always the same. I definitely do.
As you may already know, we have a very active sewing studio in Hoboken NJ called M Avery Designs. We've been teaching sewing classes here for the last 13 years or so and still have a very active class schedule for adult & kids sewing classes.  We teach roughly 15-20 classes on any given week.
As my business has grown over the years, I've had the opportunity to hire wonderful teachers to help with the demand of students eager to learn how to sew in our area of the world.
I finally let go of the idea that I had to teach all the classes myself, a belief I'd held for waaaaaay too many years.
I've been very lucky (and picky) to have found & hired amazing people who had the qualities I deemed extremely important in order to teach people how to sew. I hired them to teach classes when I knew I could no longer teach them all myself  and I haven't looked back.
But that being said, I've never had the role of instructor ONLY fall on other people. I still teach 4-5 classes per week, on top of doing all the marketing & customer service work at our studio. And yep, that's on top of running this new side project of mine, Hipstitch Academy.
With all the hats I wear, I probably shouldn't teach much as I do, but I feel it's important and cannot give it up!
First and foremost I still teach regularly because I LOVE to teach people how to sew. I definitely get a high from the satisfaction people (both kids & adults) feel when they first learn how to sew. I also just LOVE to see someone complete their sewing project! They're completely amazed by themselves and the thing they just made with their hands and I'll admit it, I love being a part of that!
Second, and even more importantly,  I think I would become very removed from the core of what we're trying to do if I was not teaching classes regularly.
The success of my business relies solely on my love of sewing. And because of this, I'm really good at helping people achieve their goal of learning to make beautiful, functional things using fabric and thread.
My sewing studio continues to be successful only because I hire people who can do the same. And the fact that I was the only teacher at my studio for so long, I knew exactly what qualities I needed in a sewing instructor when it came time to hire.
I'm not suggesting that anyone teach ALL the classes themselves for as long as i did (at least probably 3-4 years!) because that definitely prevented me from growing for a long time.
But I do recommend that if you're starting a sewing business, teach these classes yourself for awhile. You start to see what this business is really about when you're in the trenches teaching and interacting with your customers on a daily basis!
And if you're here because you're thinking about teaching some classes of your own, don't forget to check out all the other wonderful resources we have here at Hipstitch Academy.
My goal is to empower others to have as much success at their own sewing businesses as I've had at mine. Take a browse around the site or check out some of the following. They're my favorites: