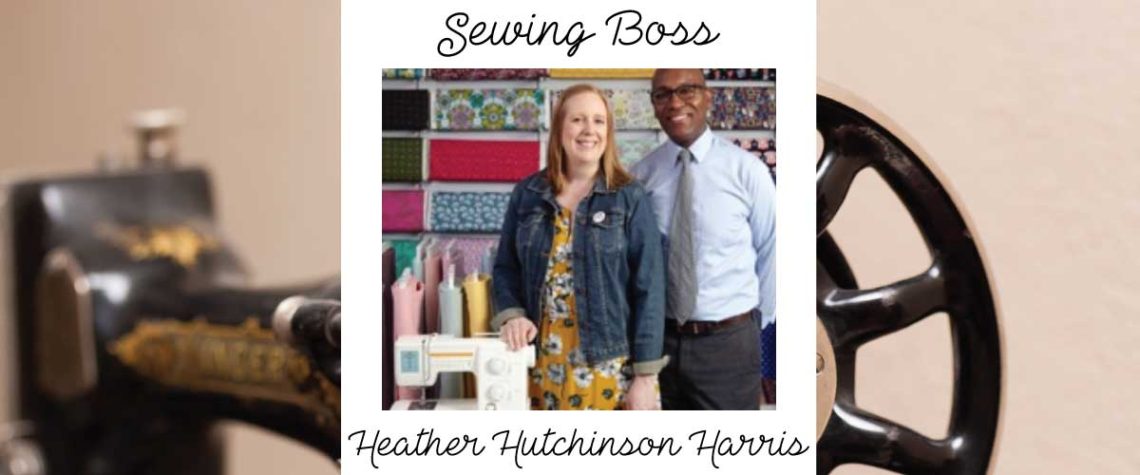 Interview with Heather Hutchison Harris
---
My latest Sewing Boss Interview was with the lovely Heather Hutchison Harris (say that three times fast!) of Handcraft Workshop, an adorable store & sewing studio just outside of Philadelphia, PA.
(Please excuse the fact that you mostly see my dopey face during this entire interview, even when heather is talking!  Ugh – I'm still getting the hang of this video interview thing and I'm honestly not really sure what went wrong here. Despite the glitch – you can still hear all of Heather's amazing insight into running her business. And maybe if you get sick of looking at me, you can put a post it note over my face 😉
Handcraft Workshop is a traditional fabric store that ALSO has studio space for holding sewing classes. I'm pretty impressed by the people who can make this type of sewing studio business model work! The inventory of fabric and notions you must need to carry in your store is mind boggling to me! The expense of the bolts and bolts of fabric and the machines and the tools and all the little sewing notions you have to sell in there makes my head spin when I think about it.
So Heather and I of course talked about all of these challenges, as well as some of the things she does to ensure she's not working 14 hour days. This is no small feet when you need to have you're store open regular business hours, but you also teach most nights and weekends.
In the interview we both expressed how grateful we are we teach sewing and not something like Math!  Can you relate that most of the kids we teach in our sewing classes are there because they want to be and that's REALLY nice.
Anyway – Let's get to it!  Here's the video interview:
Did you like this interview? We have more Sewing Boss Interviews here!