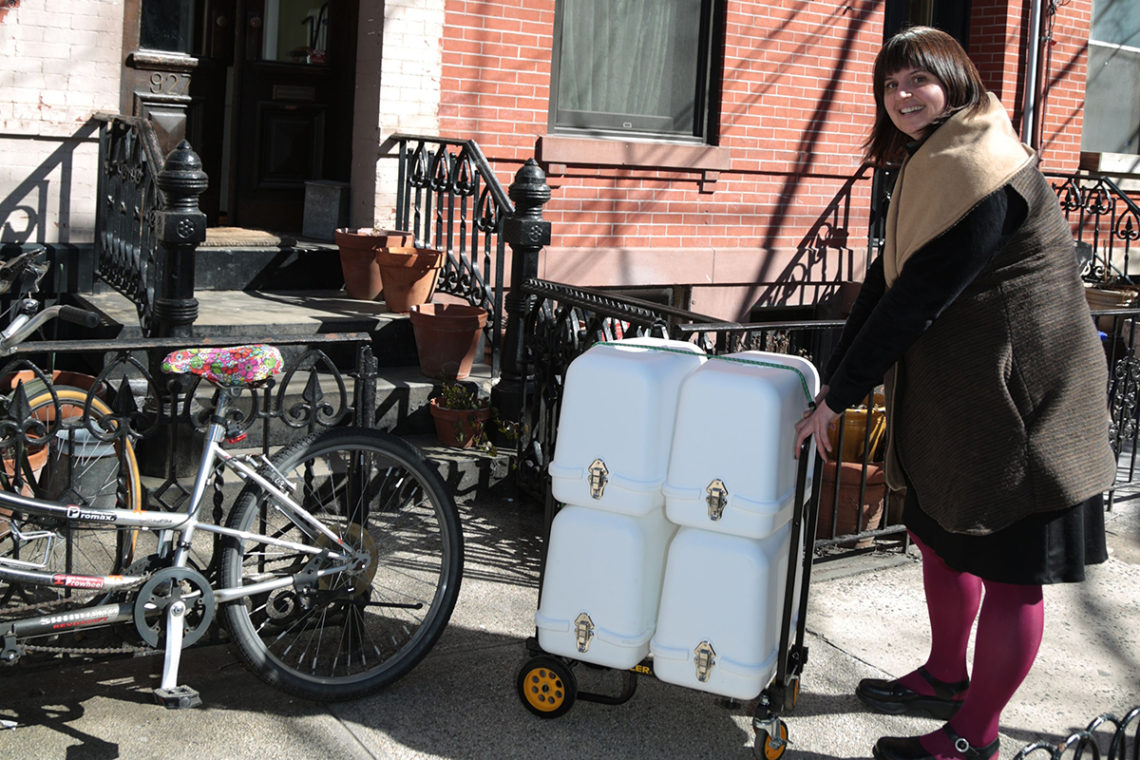 Top Five Tools for Making Mobile Sewing Classes a Breeze
You already know I'm a big believer of taking your sewing classes on the road and teaching sewing classes all over the place (not just your own studio). So today I thought I would share with you my favorite tools for making this super easy. These are all things we use in our sewing classes EVERY DAY.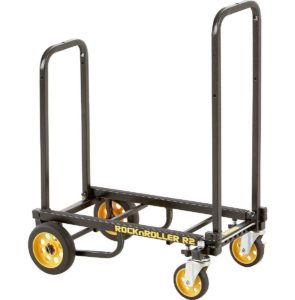 First and foremost, as you can see from the photo, I cannot live without my rock & roller collapsible cart. It's perfect for getting the sewing machines around almost effortlessly. You can easily fit up to 6 machines on this cart (the photo above was in the smaller position). When they are all on there,  it's a pretty snug fit so they don't move around a lot when you move them. If I know I'll be taking the cart of machines on pretty rough terrain (hoboken sidewalks are pretty uneven) I'll put a couple of bungee cords over the top to secure them into place.
It's super light and folds down pretty small when you're not using it. And I was actually pretty surprised at how easy it is to steer. I was imagining the wheels to not be that easy to control, but surprisingly they are!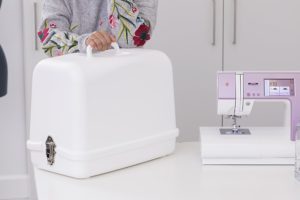 The next thing I cannot live without when I take my sewing classes on the road are the hard sewing machine cases that we keep all the sewing machines in. These cases are made by Singer, but they are universal and can be use with any sewing machine.  The hard case is designed to be impact resistant so you can feel confident that your machine is being adequately protected. The inside is pretty large (17" L x 8 ½" W x 12" H) so if you don't have a really big sewing machine, it can move around inside if you're not careful. If you're worried about this you could always stuff some fabric in beside the machine or create a pillow to stuff in beside the sewing machine to eliminate sewing movement inside the case during transport.
The other major awesome thing about this case is that the handle folds into itself allowing you to stack multiple cases on top of each other, either on your cart or in the car.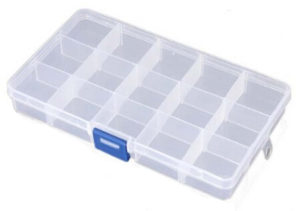 In order to keep my sanity with all the tiny, little things you need for a sewing class, I live for these cute little jewelry supply boxes. They're inexpensive and the sections are adjustable so can make larger spots inside for bigger items. I keep all my extra bobbins, random buttons, hand sewing needles, extra machine needles and even my mini seam ripper inside mine. This way all this stuff isn't floating freely in the bottom of my supply bag. Because it's nice size box (but not too big) I can easily find it right when I need it.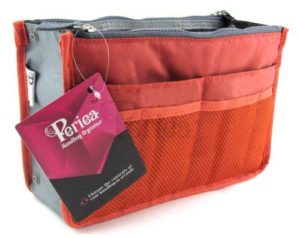 A Place for Anything, Everything in It's Place. Apparently Ben Franklin is credited to first saying this according to the internets. As I get older, I am a card carrying member of this club! That's why I'm obsessed with this bag organizer for my tote bags. Not really sure what else to call it, because that's pretty much what it does.We all have a ton of shopping bags. Everybody and their brother gives them out for all events. Not to mention the 17 you've purchased in the last year because you don't want to be that person using plastic shopping bags at the grocery store! All of these totes are perfect for shlepping our sewing stuff from place to place. But what this little thing does is turn any ordinary shopping tote into a well oiled machine. Fits right in the bottom of any bag and make that cheap shopper into your favorite accessory! You could always sew one of these for yourself, but honestly who has the time, especially with all these great pockets and compartments!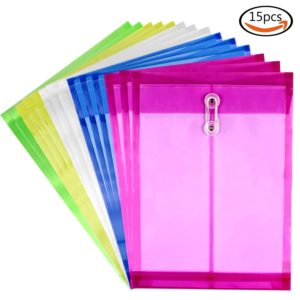 And finally these are the things I use over and over to keep the kids projects organized! I always teach my students to immediately put any fabric pieces they've cut out (but aren't ready to use yet) into these folders. This way, no one is missing an owl eye, when it comes time to sew it onto the sewing project.
These plastic folders are sturdy, so we can use them over and over again, year after year. And the gussets make it really easy to fit all the pieces of just about any kids sewing project inside.
Everybody in my class has their own folder throughout whatever sewing class they are taking and this is the way we keep our projects neat & tidy when teaching somewhere other than our sewing studio!