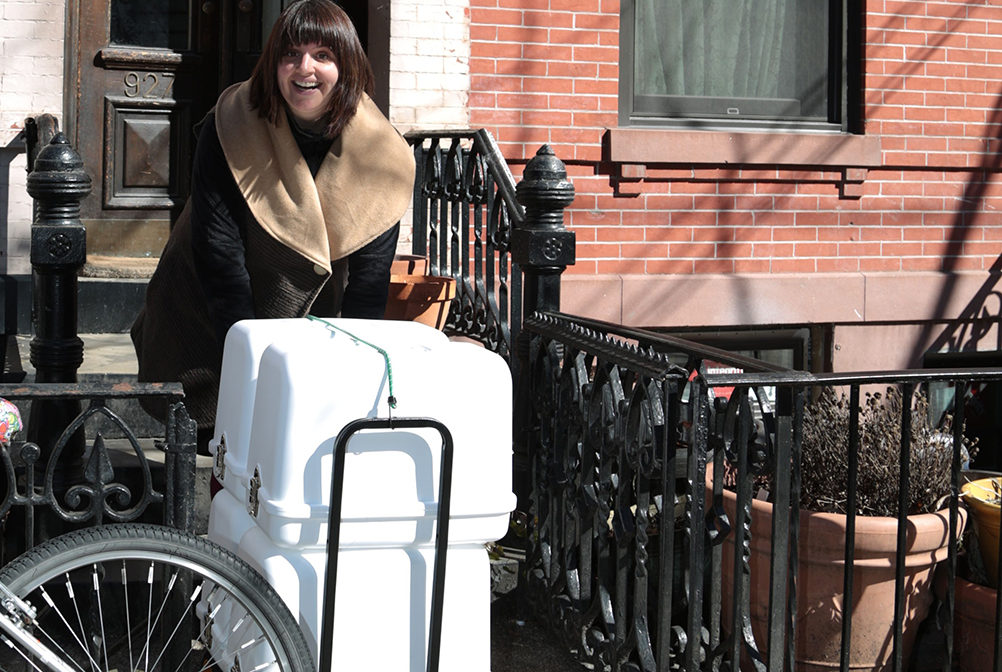 Taking your Sewing Classes on the Road – Are you ready to Teach Mobile Sewing?

The day I started teaching mobile sewing classes is the day my sewing business drastically changed for the better!
Up until that point, I'd only been  teaching sewing classes in my sewing studio. We had classes at almost every possible time we could, but there are only so many teachable class hours in each day.
For teaching sewing classes to adults or kids, typically one can schedule classes after school,  in the evening and on weekends.  But that's really about it.
If & when you max out the number of students you can teach at these times of day in your space, your ability to grow & scale your business beyond this point can become challenging.
Unless you can figure out how to be in more than one place at at time.
Ooh, now you're talking!
This is what teaching mobile sewing classes can do for your business!
Once we figured out how to teach multiple sewing classes at the same time each day, BUT in different places, that is when our business began to go gangbusters!
And yes, at first making this happen sounds like a huge pain the butt!
Some questions that might immediately come to mind:
Where would I hold these classes?
How the heck would I get started?
How do we lug the sewing machines ( and all the other sewing stuff) around?
Who is going to teach these classes if I'm already teaching at my studio?
But it's really easier than you think!
Start Small! Start Simple!
For us, in our business, it was in that after school time. We had classes almost every day of the week at our studio after school and for the most part, we were as full as we could be. But we knew that if we held some classes where large groups of  kids tend to be at time time of day, we'd have no problem filling classes at this location, as well.
So the obvious next step was working directly with schools in our area to teach classes right at the school. Kids didn't have to get from the school to our studio (eliminating that step for parents) and we had a whole new audience of kids who wanted to learn how to sew, but didn't have the ability to come to the studio for a class at this time. So simple, yet so genius!
Whether you teach kids or not, these FIVE steps will work for teaching mobile classes wherever and whenever is most appropriate for your business!
And if you haven't started teaching yet, that's okay too! Maybe this is the push you need to get it started before you have the sewing studio of your own.
So here's our advice to you about getting started teaching mobile sewing classes:
Any room can be a sewing studio, at least temporarily. We've taught sewing in church basements, museums, pre-k classrooms, libraries, art studios, cafe's, restaurants, peoples dining rooms, camp cabins, outdoors and so many other crazy places. You can turn just about any space into a sewing studio as long as 1.) You bring along all the right tools (We've included a handy dandy download below – keep reading!) AND 2.) You have access to power – Or if you're teaching hand sewing or embroidery – who needs power?!
Establish ongoing relationships and more classes will follow. I am very proud that we always get asked back. Whenever we teach anywhere outside of our studio, I feel it's very important to continue the relationship with the organization where you are teaching. We all know that we have to be friendly and courteous (duh) when you're there using the space, but DO NOT forget to follow up after the class to let them know how much you loved teaching there! It's so important to follow up & keep in touch!  If the class goes well, there going to want to ask you back as much as you want to teach for them again! 
Pack light & be efficient! The list of supplies you'll need for a mobile sewing class is actually surprisingly shorter than one might think! I use an awesome cart (see photo above) to lug all my machines around. I can fit a total of 6 sewing machines on it, if I need to bring all six. And then usually I can fit all the other supplies needed into a large shopping tote that I sling over my shoulder while steering my cart. Check out the handy-dandy Mobile Sewing Class Tools & Supply Checklist.  Print this baby whenever you take your show on the road to ensure you don't forget anything important.

Hire rockstars who will represent your business AS WELL, if not better, than you can! 

Try your darnedest to make the experience as close as you can to the one in your studio.
And wanted to take a moment to let you know that we've been working our buns off to complete first online training program: Rock your First Kids Sewing Summer Camp.
It's launching soon and you and find out more about it here.