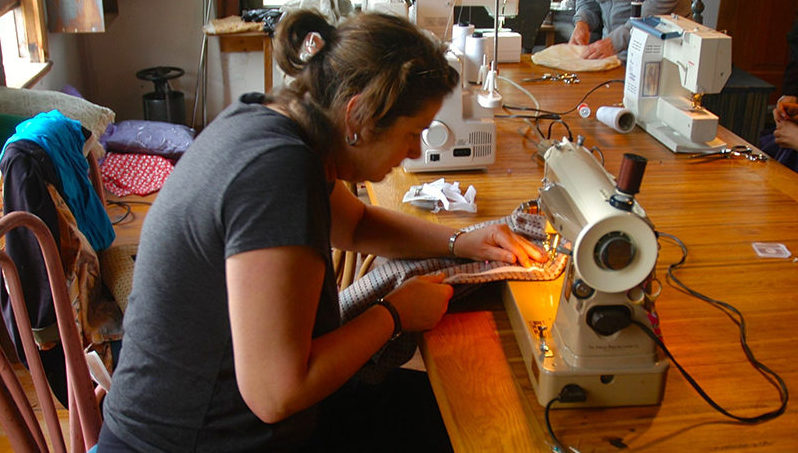 Get Away & Be Inspired at a Sewing Retreat
I first started hosting sewing retreats about 4 years ago. From day one, I was completely hooked. My studio is in a very urban area and I knew my students would LOVE the chance to get away from the city for a weekend of strictly sewing. While it's difficult to think about not living and operating my sewing studio in the city, the thought of driving a couple of hours north for a few days, to spend time in a giant house, close to nature, felt too good to be true!  And let me tell you from that first weekend in the woods with our sewing machines fired up, we couldn't get enough!
The first M Avery Designs sewing retreat actually took place at a Bed & Breakfast called the Turquoise Barn in Bloomville NY.  I had found the place while planning my wedding and actually booked it to have as my wedding venue before deciding to have a sewing retreat there. Looking back it was an excellent way to get to know the space a little better before Adam and I said our I do's. If I remember correctly, the retreat was in April of 2014 and we got married in July of 2014.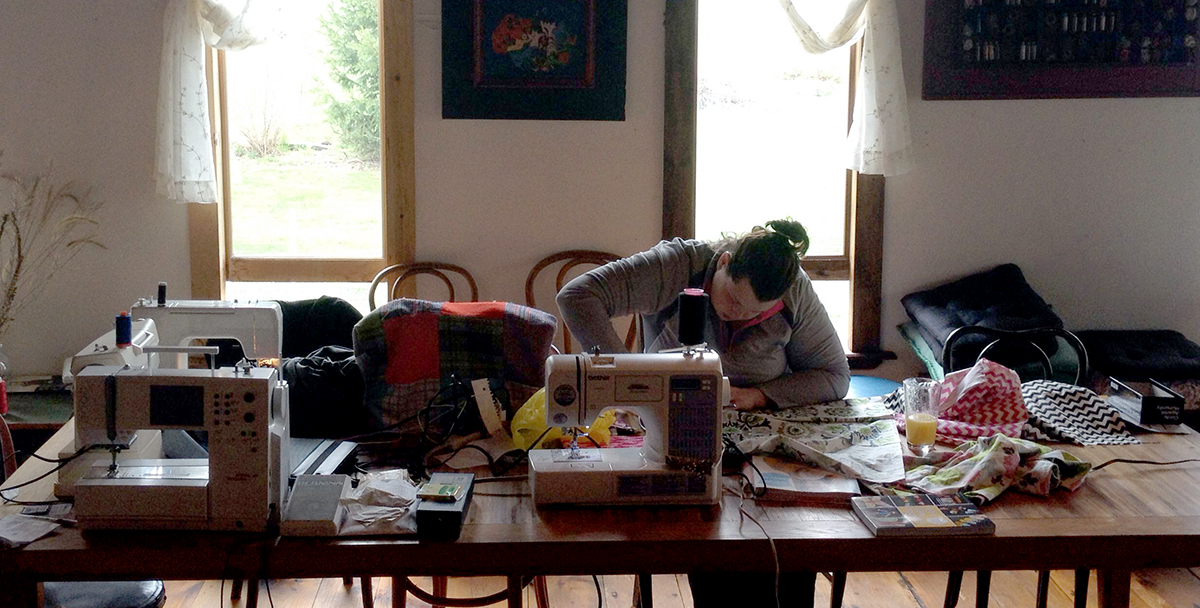 Like most things having to do with running your own sewing business, the idea of hosting your own sewing retreats may seem a little daunting.
But what I'm going to do here today is share with you a little of what I have learned from hosting sewing retreats for my students and what I do to get ready for my own sewing retreats today.
From initial planning stages to packing up on the last day of the retreat, I'll lay out some important steps I take to ensure things run smoothly & everyone attending has an amazing time!
Finding the place – I find the easiest way to book a stay anywhere (for any type of travel – I seriously don't stay in Hotels anymore!) is Airbnb. You can search for places to hold your retreat using all the filters you can imagine including: location, how many people the house will hold, what the rooms are like, amenities (like hot tubs & fire places, yes please), you get the idea. You'll probably want to check with the host to make sure it's okay to host an event like this. I'd say most hosts would be totally fine with a group of stitchers hanging out at their place for the weekend.
Setting the date – I've done retreat weekends where they start on Friday night and we pack up Sunday morning. These are nice because people don't have to take off from work because they're just taking place over the weekend. But I've also done them where we start on Thursday night, and we have two full days on Friday & Saturday for sewing. These are so much better!
I also love doing retreats when were having an especially cold winter and nobody wants to do anything but stay cozy inside & warm.  But I'm always a little worried that we could have a big snowstorm that weekend which could alter traveling plans.
How Far Way/Getting there – I like to stay no more than 3 hours from where people will be traveling from. It's far enough without spending a ton of time in the car. I try to provide public transportation options when they are available . I'll also help people coordinate carpools with other retreat attendees. I'll make myself available to pick up and drop off attendees at the train & bus station if they need me to.
Weekend of/Activities – Depending on how big the retreat it, I'll plan special classes and demos throughout the weekend. But for the most part attendees are really happy to bring their own sewing projects they don't normally get a chance to work on. Then as the instructor and organizer, be prepared to help each student individually with questions, instructions and general sewing know-how.
I'm also a big advocate of other peaceful activities that can be done over the weekend, besides sewing. Sometime I'll bring a massage therapist or Reiki master in so that people can have some relaxing services. I've also been known to lead the guests in group meditation to help them relax and get really creative while at the retreat. Other cool things could be spa treatments, games, personal growth workshops, healthy cook and so on.
Sleeping Arrangements – For the most part the houses we have stayed in on past sewing retreats have double occupancy rooms. I'll make sure that the rooms have the ability to sleep two people, but not in the same bed. This way people who've maybe never met before the retreat don't have to find themselves sharing a bed with a stranger. It's an added challenge to find a house that this will work for all/most of the bedrooms. But you can get creative by asking about air mattresses, moving futons from other rooms and utilizing pull-out couches. Just be sure to make the accommodations very well known to the guests before the retreat.
Meals –
Writing this has gotten me pretty excited about hosting a sewing retreat in the very near future! Gonna have to take a look at the calendar and see when I can plan one soon!
And someday I would love to host a sewing retreat for sewing teachers only. How much fun would that be to spend a Hipstitch Academy together in the woods. I think I might have to try to make that happen!