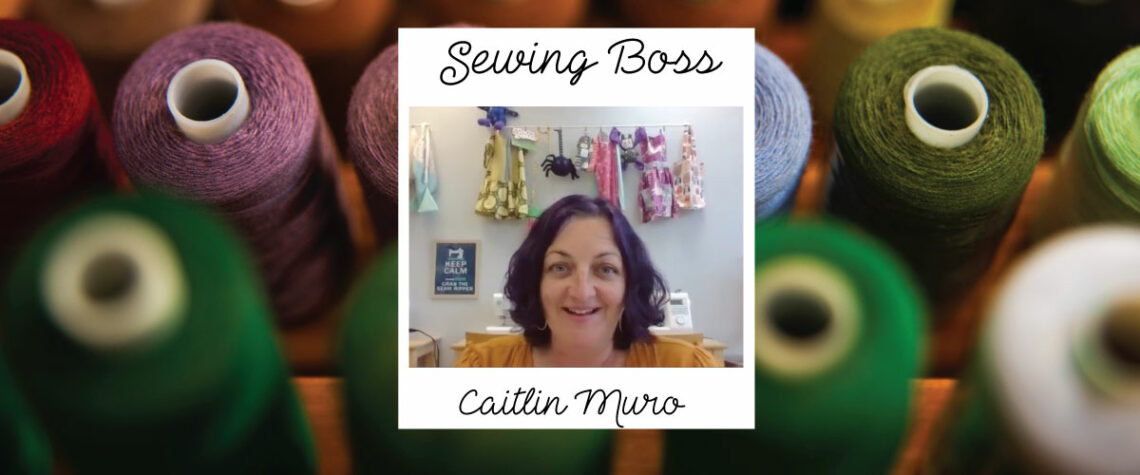 Interview with Caitlin Muro
You guys! We have a new interview with a Sewing Boss! And I mean like a BOSS BOSS!
Caitlin Muro from The Makery is so much a boss, she emailed me and let me know that she IS a BOSS and wanted to be interviewed for the Sewing Boss Interview part of Hipstitch Academy.
I was like, Hell YES!

I knew immediately I would like her after that.

And like her, I sure did.
She's a warm, she's friendly and Caitlin is just an all around likeable person.
Her sewing business is called The Makery and it's based in Scituate, Massachusetts.
And let me tell you she knows her business! I had such an awesome time interviewing her and hope you all enjoy our chat. Here ya go.
Did you like this interview? Don't keep it all to yourself, please share it with a friend!
We have more Sewing Boss Interviews here!
---
Caitlin Muro Bio
I've always loved to learn new things, teach others and do so in a way that is fun and creative.
I got my BS in Early Childhood Education from the University of Vermont. I owned and operated a toddler play school for 7 years before I had my 3 girls (now 5, 5 and 3). For the past 2 years, I've been teaching my own literacy based art curriculum for toddlers and preschoolers at South Shore Learning Lab (where I was awarded "Best Art Class" by Macaroni Kid) and at Mamas Move. I had been teaching adult and kid sewing classes at the South Shore Learning Lab as well as here at The Makery before I bought the Studio in September of 2015.
Growing up, my creativity was always supported. My Mom and Nana were always making things, and took the time and patience to help me learn different ways of expressing my creativity and breaking down my ideas into workable steps to allow them come to life. If I needed a costume or a new dress, off to the fabric store we went to look through the pattern books and find the perfect fabric. Throughout my life, being a Maker has always been a big part of who I am. I love sewing things for my children, gifts for others and for my little shop, Seaside Dandelions. I love teaching people to sew, encouraging their creativity and watching them challenge themselves and create awesome stuff!