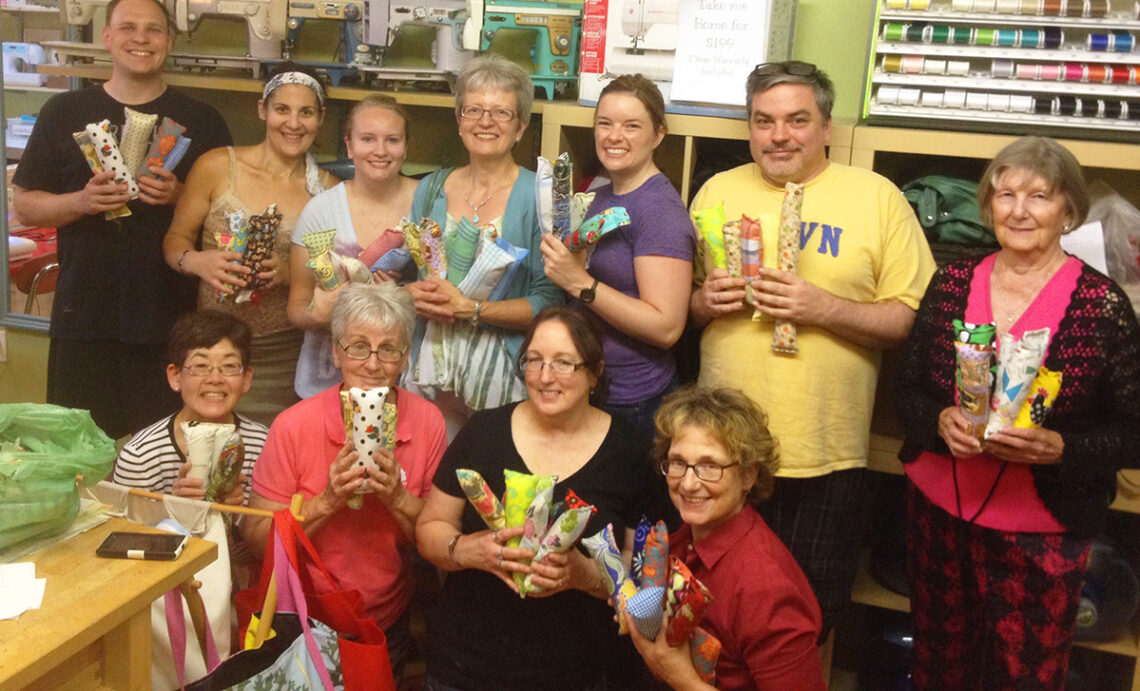 Hosting a Charity Sewing Event
In today's Hipstitch Academy video business class we're going to be talking about hosting your very own Charitable Sewing Event.
Charity sewing classes are an amazing way to sew items and things that are needed do to necessity, losses and tragedies. They're also a wonderful way to cultivate your sewing studio community. Lately, I've seen so many benefit sewing classes for the Australian forest fires and it couldn't make me happier.
In today's Hipstitch Academy video business class I'll be talking about Charity sewing classes. I'll be talking about the obvious benefits of how these types of sewing classes can help raise money for organizations in need, but also how it can help promote sewing and community in your sewing studio.
So I think a lot of times when we think of charity sewing events we think about groups of stitchers and caring people creating sewing projects that are actual objects that an organization needs like pillowcase dresses for little girls. Or kids surgical gowns for the NJ organization we just did a workshop for.
As sewers we have a gift that not a lot of people have and that gift is the ability to make something useful from a pile of fabric. What better reason could there be to have a charity sewing event. But beyond making the thing needed in our charitable sewing workshops, I'd like to also talk about how your sewing studios efforts can raise much needed money for charitable organizations.
One fo the regular fundraisers my sewing studio holds is a really fun sewing workshop for a cat charity that is near and ear to my heart called Jersey cats
Each year we'll hold a free sewing Workshop and in this class our goal is to make as many small cat nip filled cat toys we possibly can in a two hour evening event. The cat toys we sew are then sold at a local street fair here in Hoboken. the money raised from the sale of the inexpensive cat toys is used to care for, neuter and get cats off the streets of Jersey City.
As much as I would love to think this organization could use the things we sew for actually saving the cats, what they really need is money to save more cats.
I urge you when you are thinking about the planning stages of your charitable sewing class to think about how actual money can be raised, in addition to the sewing workshop you host.
​Marketing Your Kids Sewing Camp
Your Ultimate Guide to Getting Your
Sewing Camp Spots Filled Before Camp Starts
Try to come up with an idea for a super simple sewing project that any skill level could sew. Something you'll be able to make a lot of and then maybe something that can be sold inexpensively at a fundraising event. This checks both boxes of getting people interested in sewing by giving them a little taste of it. In addition it makes money for an organization in need.
When I do this type of workshop at my sewing studio, I always try to incorporate some kind of fundraising aspect to it. As much as I used to hate trying to fundraise money while the workshops are going on at my studio, it's definitely a missed opportunity if you do not.
Instead of trying to do all the fundraising myself though, I will invite the heads of the charitable organizations to attend the workshop on the night of the event. I encourage them to handle the asking for money portion of the sewing workshop and since this is what they do, they're great at getting your workshop attendees to dig deep into their pockets to donate money to the cause of the evening.
Definitely don't feel weird about doing this. You're doing your part by inviting your students and customer base into your studio for a FREE sewing workshop. Therefore I don't think it's out of line to ask for monetary donations (no matter how small) to raise money for your cause. And if people choose not to donate, that's their choice. But I would assure you that most that attend will be happy to donate a few books to this good cause.
Another way you could hold your charity sewing workshop is by maybe offering a free (ish) sewing workshop at your studio or at a street fair or public event. But instead of making this workshop where you get to try sewing completely free, you could take a small donation for the chance to try the sewing. An example of a good way to do this is by maybe setting up sewing machines at a street fair to make quick scrunchie projects with people passing by. The project only takes a few minutes, people see how fun sewing is, so you're promoting your sewing class. They see just how great it is to walk away with a cool project they sewed themselves. Then you ask them in exchange for trying this project, they donate $1 to your favorite local charity.
Then of course there is also the charity sewing workshop that the primary focus is for making things that are needed by a certain group.
This kind actually tends to be a bit more difficult to pull off in my opinion. You need to make sure that the sewing project you're making is made well and that the process is efficient and a good experience for all attending.
Getting back to the kids surgical gowns workshop my studio held a couple of years ago. This was an amazing workshop, but it was also quite a bit of work from a sewing studio standpoint. I had to get the sewing pattern for the surgical gown ahead of time from the organization. Then I had to make a sample of the gown and break down the steps that go into creating a gown like this from start to finish. Then I had to get really organized with how i was going to structure the charity workshop so we could be organized and productive enough to make multiple gowns correctly throughout the course of the evening.
We managed to crank out about 10 kids size gowns that the organization could use, but it was a lot of work and pretty involved as far as making sure the newbie stitchers and students were doing things correctly. And I'll admit that I put in a few hours of sewing after everyone had left to make sure the gowns were all usable and finished before I sent them to the organization.
So if you think you're looking to do a workshop for your sewing studio, I highly encourage you to try it. It's a wonderful way to give back to your community, as well as spread the word about how fun and useful learning to sew can be. Don't forget that you'll probably be the one donating the fabric to make whatever it is the project you'll be making.
Here are the steps to follow when putting together your own charity sewing workshop.
Determine the charity and what you'll be sewing. I have included a list of projects you can sew for charity that I found on a website called Maigocute.com. There are so many great causes to sew for! https://www.maigocute.com/pages/sewing-for-charity
Determine where & when you'll be holding your charity event. Remember you don't have to have your own sewing studio in order to do something like this. Just like any sewing class you teach, a mobile class is ALWAYS an option. You can hold your charity sewing workshop just about anywhere you've got big work tables to work on and power for the sewing machines.


Spread the word about the event you'll be hosting. Add the details to your charity sewing workshop to your website, social media outlets and tell everyone you know about it. It's helpful to have some kind of sign up page, so you can keep track of who is coming to make sure you have enough space and refreshments (if you're serving them). I highly recommend cutting the number off at a certain point so you don't wind up with more people than your space can handle. I also recommend saying something in your signup process discouraging people from signing up and then NOT showing up! Make it clear that there are only a certain number of spaces and if you sign up to attend, you expect them to show up.


Invite representatives from the charity group you'll be sewing for to attend the workshop.


Make a sample of the project you'll be sewing for the workshop so you know how to make it and can show others how to make it easily.


Gather all the supplies you'll need to make several of the charity projects you'll be making at the workshop.


Try to put together a quick step by step tutorial for making the project you'll be sewing in the workshop and make copies of it to distribute on the night of the workshop. This will help people be a bit more independent at the workshop and hopefully you'll be able to sew more during the workshop.


Don't forget to ask your workshop students for donations towards the charity. It's always a nice addition to send money you've collected on the night workshop to the charity in addition to whatever you are sewing.


Also don't forget to promote you other sewing classes on the night of the workshop. Yes, this is for charity, but you're also doing this to promote your sewing community and the classes that you have at your studio. Be sure to get people to sign up for your mailing list if they're not already on your list!


Remember to Have fun while the workshop is going on. You want to show people how much fun and rewarding sewing can be! You want people to have a great time while sewing. If you have fun while you're teaching this workshop, your students will also have fun and want to do more sewing in the future!
So I will see you all again in two weeks. There is no business class next week because I'll be flying home from Mexico so I've given myself the week off. But I'll be back the following Thursday for a brand new business class.
That's the week I'll be talking about my seven months without buying any store bought clothes, what I've learned and what that's going to look like going forward. It's going to be a good one that you're not going to want to miss!
Until then, have an awesome couple of weeks. BYE.