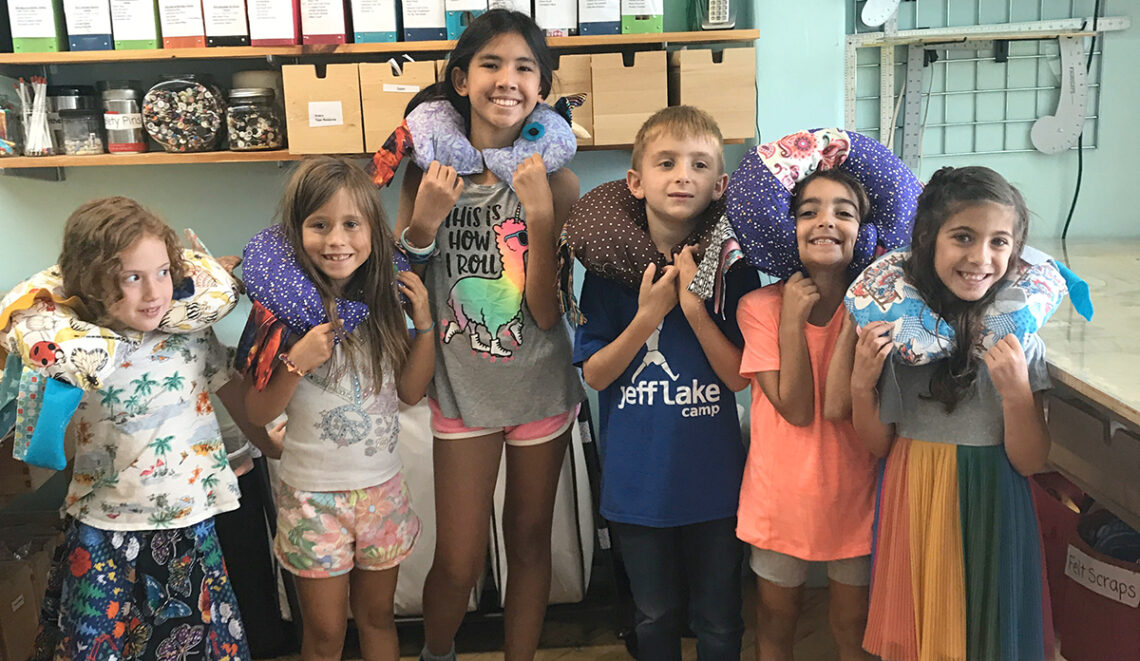 If You Are Not Teaching Kids Sewing Camp, You Are Missing Out
Many of you know I have been working on an in depth course all about teaching your best kids sewing camp yet. And I wanted to take today's class to talk about the course a bit more in detail and answer any questions that have come up regarding the course.
When I taught my first kids sewing camp 13 summers ago, I did a lot of things that I didn't do the second year because quite honestly, I didn't have a clue what I was doing. I've made this video course for you in the hopes that you'll not have to make the same mistakes I did when you do your first sewing camp.
This new course Sewing Camp Profit lab is definitely for sewing entrepreneurs who've already taught summer camps in the past. This course is going to help you to up-level your camp so it's the most fun and profitable you've ever taught. I'd even say this course will take your camp to the next level and make it the best kids camp in your town.
I've also created this course for the studio and sewing teacher who is just starting out. Those of you who haven't taught a camp before, but are dying to try if only you had a little bit of guidance to get started.
The Sewing Camp Profit Lab Online Training Course is split into four very important parts.
● The first section Planning & Scheduling Your Camp launched on Monday and will help you get all preliminary things you need to get done.
In this module I'll teach you:
Strategies for setting up a profitable summer schedule
Tools for efficiently breaking up the day for maximum learning
Effective implementation of website registration software to boost your sales
Pricing strategies to help determine what to charge for your camp
● Then the 2nd module Marketing, Selling & Filling Your Camp will launch on February 24th just in time to get your butt into gear to start getting sign ups for your camp.
You'll spend the next three weeks really focusing on the marketing component of your camp.
In this module I'll teach you:
Email marketing techniques to get more sign ups.
Effective social media to promote your brand and fill your camp.
Easy to implement website tweaks to get more sales
Indisputable promotional tips to help make sure you get your camp filled
Strategies for stellar student retention, week after week
● The 3rd module called Preparing for your Best Camp will launch 3 weeks later on March 16th and this is the part of the training where we'll be focusing specifically hiring, find the perfect spaces to hold your camp as well as effective training of your camp staff.
In this module I'll teach you:
Methods for finding rock stars to help teach your camp
Ways to get creative with spaces to hold & grow your sewing camp
Facilitating effective pre-camp staff training
● The 4th and final module of Summer Camp Profit Lab will be focusing on Facilitating Your Best Camp. The part of the training will be launching three weeks later on April 6th.
In this module I'll teach you:
Best practices for making your camp days run smoothly
Keeping your kids safe while sewing & creating
Summer Camp Curriculum - What to teach at camp
I decided to release the sections a little at a time so that you will be able to bite off digestible chunks every three weeks. And then have time to focus on getting the work associated with the module done. I have found with some online courses that I've taken myself, having all the information all at once can be overwhelming and I get stuck and get nothing done. Hopefully having the course a little at a time, will help you with that.
The next thing I want to talk about today is the accountability coaching option that will coincide with the four sections so you can make sure you're taking all the necessary steps to make this your most of your camp.
So when you sign up for the course, there is an option that ALSO includes access to 4 hours of group video coaching calls with me.
These are going to be group video calls with other people who are in the same boat as you and taking the course. Each of the 4 coaching sessions will correspond to the modules of the course.
They are going to help you implement what you learned in the Sewing Camp Profit lab and then motivate you to actually do the course work. The value of these coaching calls with me is around $350, but when you purchase the online course it's only an additional $100.
So now I'm going to take some questions that I see popping about the sewing camp profit lab.
Okay so the first question I keep getting from you guys is "I don't have my own studio, is it still possible to have my own sewing camp?" and that answer is a big fat yes. If you've got through my free program Sewing School Startup Academy, you know that you definitely do not have to have your very own studio to teach sewing. Whether its sewing camp for kids or some other sewing class, there are plenty of spaces that you can use temporarily for sewing studios and that goes double for sewing camp.
I get into this in the 3rd module of the training, but especially in the summer, there are so many opportunities to hold a sewing camp in a mobile location and that way you're not stuck paying rent on a place all year long.
So I hope that answers that question.
The next question I keep getting quite a bit since the training launched on Monday is how long will the course be open. And that's a great question. The Sewing Camp Profit Lab is only open for enrollment until the end of the month. I want everyone to have three full months to watch the training and implement the work to launch their camp. So for that reason, you can only enroll in the sewing camp profit lab 2020 until March 1st.
And the third question is of course, how much is the Sewing Camp Profit Lab course. And that's of course a great question. The cost of the video course alone is $259. This is basically the cost of a ½ day session week of camp for one student. So yeah, it's really not that much of an investment in the grand scheme of things. If you get one student enrolled from 9am -12pm you'll make your money back.
And if you opt for the Sewing Teacher of the Year Package, you'll also get three kids sewing project themes of your choice to use for your camp. The cost of this package is only $40 more at $299. So you get the course plus the 15 kids sewing project tutorials for your camp (which is about $150 of value) all for $299 total.
And the third package is the Sewing Teacher of the decade package and that one gets you the course the 15 kids sewing projects plus the 4 hour long group coaching calls with me. And that package is $399, but also a pretty good deal considering you'll have me to bounce ideas off of, ask anything and really motivate you to get your camp off the ground.
If you are watching this now and still have questions, please don't hesitate to reach out to me! I would love to hear from you and more important I would love to know what's holding you back from committing to this.
So I will see you all again on Monday. In case you haven't already seen the full schedule for these weekly live video classes, the classes take place each week at 1pm eastern time on a different day each week. The full schedule is posted online at hipstitch.co/videoclasses.
If you sign up ahead of time so you get the reminders to watch them in real time.
And if for whatever reason you can't make a class live, I always post the videos later so you'll always have access to the recording to watch anytime that is convenient for you. You can find those in the Sewing Teacher Blog
hipstitch.co/blog.
Please spread the word about these free weekly classes. If you're finding them helpful, chances are so will other sewing studios who you follow on social media.
Other sewing studios are NOT our competition. We're here to help each other get better at this and teach more people how to sew. Right?
Screenshot this video, post it and then tag me on your social media @hipstitchacademy.
Next week's live class is going to be Monday February 10th at 1pm eastern time and I'll be talking about writing better emails to promote your sewing classes.
Until then, have an awesome week. BYE.