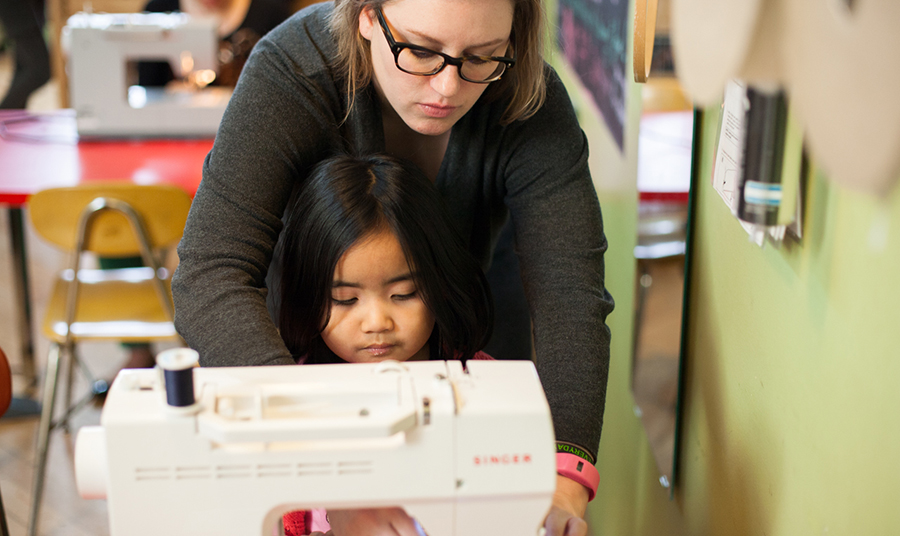 Start Planning Sewing Camp Now
I'm guessing you're here either watching this class live with me or watching the video replay because you're interested in teaching a kids sewing camp over the summer.
Well that tells me that you are a smart cookie, because I'll let you in on a little secret about my business. The sales that I generate in my 10 week summer camp are over ⅓ of the totals sales I generate in my business throughout the course of the year. That's pretty crazy. And I'll be honest, that's NOTHING. I know a lot of other sewing businesses who aren't holding regular classes like I am or not doing adult sewing classes throughout the year who are generating ½ or even ¾ of their total revenue in just 10 weeks of kids summer classes in the summer. Pretty staggering if you think about.
Kind of makes you want to really get your act together and put together an awesome kids sewing camp this summer, eh?
Scheduling - Will your camp be ½ days? Full Days? Five days a week? Or just partial weeks? Should you allow daily drop ins? How about aftercare and before care?
Registration - How will people sign up? Which registration software?
Where will you hold your camp - Even If you don't have your own dedicated sewing studio to teach classes, you can still teach kids sewing camp in the summer. There are plenty of ways to make it happen.
Who will work the camps? - How to find awesome people to help you teach your summer kids camps, because you cannot do it all by yourself!
Curriculum - What projects and project themes work really well for camp and where you can find curriculum to teach at camp.
Getting kids to sign up - I'll share some great promotional tips to help get you started getting kids signed up.
- - - - - - - - - - - - - - - -
So our first topic of discussion will be Scheduling Your Kids Summer Camp - The first thing you have to decide is which weeks will you offer your camp. Find out from a quick google search when the local schools are out for the summer and schedule around that. Obviously kids not in school means they will need something to do with their day. Hopefully moms will find out about your camp in time to allow them to sign up.
Also do a search for the private schools in your area and when they let out.
In my part of the country the private schools tend to get out a little earlier than the public schools. Because of this, I will usually start our summer camp about a week before the public schools get out just for the kids who are out of school earlier. Moms of these kids LOVE it because there aren't a lot of other camps starting this early so the options for their kids activities that week are limited. I tend to sell out even these weeks because there is less competition with other camps.
The next thing you have to decide is how long your camp will be during the day. Will your camp be a ½ day? Maybe only in the morning, or will you make it a full day so that kids can stay with you the entire day, making it a little easier for working parents? For me, we do two 3-hour sessions. One in the morning from 9am to 12pm and one in the afternoon from 1-4pm. So you can sign up for only a half day or you can sign up for the full day and stay for both the morning and afternoon session, with an hour for lunch in the studio from 12-1pm. Some people also come only in the afternoon, after maybe doing another morning camp somewhere else. I do price the sessions to incentivize parents to sign up for a full day.
And in the building where we hold our camps, there are many camps going on. Over the years I've partnered with other camps who have similar schedules to us. If parents arrange it ahead of time with us and with the other camp, kids can attend other camps in the building and we're always happy to pick them up or drop them off at the other camp during the day. It's a great little added service we offer our families that has worked out really well.
We also offer this for before and after care. There are some bigger camps in our area within a 5 minute walk from our studio. They will allow kids to just sign up for before or aftercare and then we'll pick them up at 9am when our camp starts. This works out great for working parents who need to drop their kids off before 9am or after 4pm when our camps ends. We offer the same service for after our camp day ends. If parents need their kids in an aftercare program after 4pm, we'll happily drop them off at a nearby camp that has an aftercare program.
- - - - - - - - - - - - - - - -
Next let's talk about Registration. This is 2020. You NEED To have a registration system that allows people to sign up their kids for camp online and more specifically a registration system that works well on a phone. It's inevitable. If your registration software does not allow parents to sign up and pay for the camp at their convenience and preferably on their phone, you're going to lose registrations this summer. It's that simple. And it's way easier than you think. There are so many registration software options to choose from. Some are really robust and you can get all sorts of information from your campers. For instance we use Sawyer. Last summer was our first summer using it and it was by FAR the smoothest registration we have EVER had. Parents can not only sign up and pay. We can make it so they pay a deposit when they sign up and then automatic payment for the balance whenever we choose. Parents can include any and all caregivers who are allowed to pick their child up right in their registration. We include sibling discounts, we know all students allergies upon sign up. It's wonderful and well worth the little extra they charge for their service. But there are also less expensive options out there that do the trick too. We have used acuity scheduling in the past and it works really well and it doesn't cost very much at all. And it's super straightforward to add to any website.
- - - - - - - - - - - - - - - -
Where will you hold your camp - Even If you don't have your own dedicated sewing studio to teach classes, you can still teach kids sewing camp in the summer.
There are plenty of places you can teach sewing classes. Even though I've had my own sewing studio for years, I've also taught sewing classes in almost all of the following places:
Churches
Schools
Restaurants,
Coffee shops,
Yoga studios,
Art studios,
Co-working offices,
Public Libraries,
Someone's home,
My Own house,
Outside in parks and more.
Just About Anywhere Can Become a Sewing Studio
Most small businesses are not using their space all
the time. Find a spot where they'd welcome a fun
community event like a sewing class. But be sure it's
in a convenient location for people and would
provide enough space for your class.
Make sure they're big and open and have
electricity. Must be okay with you bringing in
portable tables for cutting and sewing machines.
Get super creative and rack your brain for
appropriate local places that could double as
your temporary sewing studio.
- - - - - - - - - - - - - - - -
Curriculum - What projects and project themes work really well for camp and where you can find curriculum to teach at camp.
You can teach whatever you like in your summer camps. Pick your projects that you think kids will like and figure out what projects will work in the allotted amounts of time you're holding your camp.

I'll tell you what we do though. Since our kids camps are three hour sessions, that is usually the perfect amount of time to create one of our kids sewing projects. If kids finish early, they help someone else until everyone finishes. Or if we don't finish in the 3 hour class time, we finish it up the next day.
All of our kids sewing project curriculum downloads come with:
Lesson Plan Tutorial - This is the teacher's guide line for teaching the project. It includes helpful sections like Supplies, Project Timeline, Prep, How to Shorten project for less time, How to add to project for more advanced students, as well as New Sewing Vocab and Concepts.

Student Tutorial - This is the simplified version of the tutorial and basically just contains the step by step for how to make the project.

Pattern - This is the multi-page pattern that you can print from your home computer and tape together to make the entire large pattern. You can make multiple copies for all your students.

3 Promotional Photos These are the hi-res photos of the finished project that you can use on our website or promotional materials when you are advertising the class.

- - - - - - - - - - - - - - - -
Getting kids to sign up - This is the marketing of your camp and there are all sort of things that you can do to make sure you get lots of sign ups for your camp, but the main things I focus on include the following:
Email Marketing - There's a lot to be said about this really effective marketing tool.
Social Media Marketing
Live Events like street fairs and kids camp fairs.
Local blogs and websites - I reach out about doing stories about my studio in exchange for the chance to come take one of my classes
Promoting the summer camp classes to my after school students