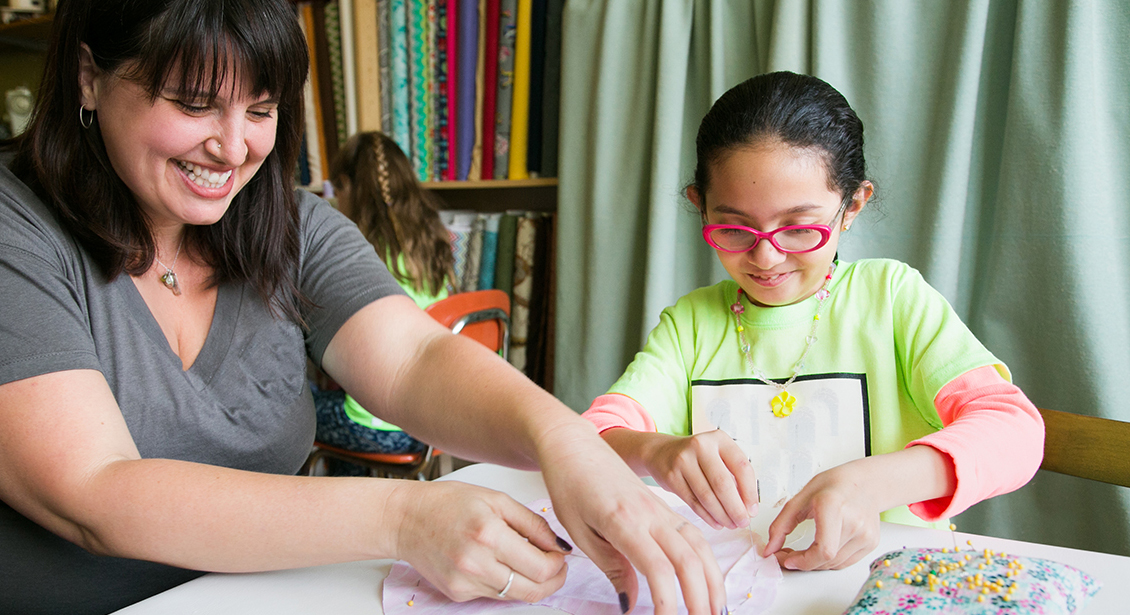 Creating Hipstitch Academy has re-ignited my passion for my own sewing business.
I've been teaching people how to sew for a pretty long time. I'm not great with timelines and what year things happened in my life. But just for this video I just went back in my photo archives and checked.
It's official! I taught my first sewing workshop in April of 2004. So yeah, I've been teaching sewing for almost 14 years. Seems like a very long time.
I have always LOVED working for myself and I'd say I was born with an entrepreneurial spirit. But I'm not gonna lie, for awhile there around year 7 or 8 of my teaching business, I didn't have a lot of passion for what I was doing. That was for sure.

I think I was burned out from working so hard, I wasn't as excited about what I was doing & business was only so-so at that point.
Luckily for me, I don't think that outsiders could tell this was how was feeling at the time and I'm pretty sure I didn't realize it myself until recently.
But my usual gusto for teaching other people how to sew had definitely gone away for a little bit.
That is until I started helping other people do this work too!
It was amazing to see them learning how to teach other people how to sew and succeeding with it.
That was the thing that definitely re-ignited my passion for what I did in my own sewing studio!
It was in 2015 when I was hired to do some consulting work for a kids sewing Franchise Company. I was completely excited about the prospect of this new project. And I was so honored they chose me to help train their new franchise owners.
I immediately fell in love with the work I was doing, working so closely with these brand new entrepreneurs.
It was so exciting to teach them how to do what I had been doing in my own studio for the last 8 or so years. And I'll be honest it completely blew me away to see the things I did in Hoboken NJ sewing classes working in sewing studios in Texas, Mississippi, Canada, Puerto Rico & even Ireland.
I was totally hooked helping these businesses succeed! And now I'm realizing this work with them completely re-ignited the passion I had for my own sewing studio, classes & students!
It was like I saw through a brand new lens just how important the work we are doing as sewing teachers.
You know what they say – Sewing is a dying art form.
And as much as I detest that phrase, they might be partly right.
How crazy is it to think that not a day goes by when we're all not clothed head to toe in things someone sewed, yet if you ask kids about this, they're totally shocked to think that someone sewed the shirt they're wearing!
I truly believe it's now more than ever we need to teach people how to sew. It's now more than ever we need to teach people how to make things with their hands. The sad truth is that most of our days (mine included) are filled with hours of my face stuck in front of a screen, not actually creating any actual things.
That didn't sit right with me (and still doesn't) so it's my mission now more than ever to continue to teach as many kids and adults as I can how to make clothing, stuffed animals, purses, couch cushions, you name it!
Since working with my first new sewing business owner, I've seen my own business grow tremendously. I've created new systems and processes so clients of mine could work less and teach more. The lovely by-product of this is I too work less and have more time for exciting growth opportunities in my own studio.
If the prospect of teaching other people how to sew excites you, than I'm excited FOR you!
It's thrilling to work with people like you who want to have a business teaching sewing!
Please take a moment to browse the Hipstitch Academy website for all the wonderful resources we have there – many of them totally FREE!
You can also find dozens of downloads of the sewing project curriculum we actually use in our own sewing classes.
And if you'd like to work together with me personally please don't hesitate to get in touch! I would absolutely love to share my knowledge with you in a one-on-one coaching session when you're ready!