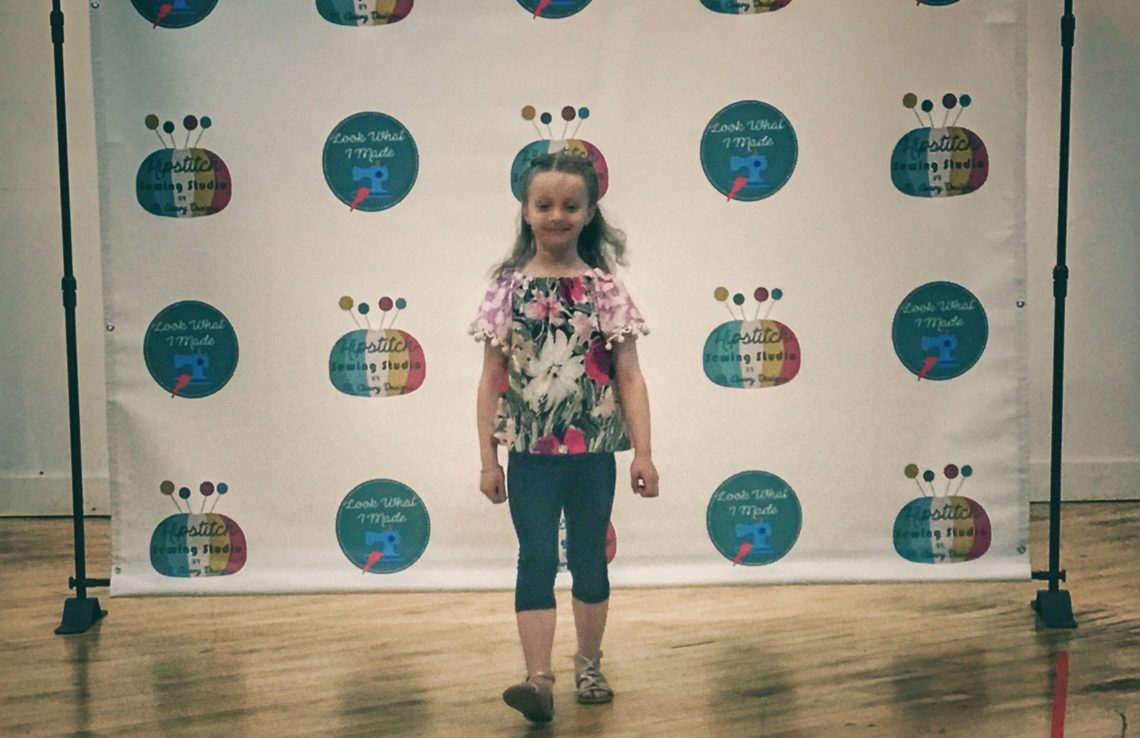 Celebrating Sewing Success: The Runway show
…
At least once a year, we celebrate all of our younger students sewing successes with one of our favorite activities – The Kids Runway Show!
This is a sometimes yearly, sometimes by-yearly event for all our students to show off all their sewing projects and all the hard work that went into them. Each students (who wants to participate) walks the runway with their finished sewing projects they are most proud of making in sewing class that year.
You don't have to model clothing on the runway! In fact stuffed animals, home/bedroom decor and any other sewing projects made in one of our sewing classes is eligible to go down the runway.
This activity is one that is looked forward to by all our young designers, as well as our instructors. And we're still coming down from the high of our runway show that happened last weekend here in Hoboken.
For our studio, it's a chance to make a BIG DEAL out of the hard work that our students do and celebrate the successes for the past year! We invite parents, siblings and other family members along to take part in the fabulous event.
If you don't already host a runway show for your students to celebrate their sewing successes, here's why we think hosting your own runway show is a really great idea:
It's a Super Duper Confidence Builder
Walking down that runway is big deal. Period. You're all by yourself, wearing and/or holding something you made by yourself and you're in front of your family, as well as a bunch of other people you don't know. Taking part in a runway show or something similar helps your students to overcome shyness, fear, anxiety and stage fright. It gives students a chance to showcase all of their hard work, dedication, and progress from throughout the year. As children experience getting on a stage and being applauded for their efforts, they gain self-confidence that will carry with them in all aspects of school and life!
Interaction with your students parents
With our sewing classes, there isn't usually a lot of time to get to know the parents of the students that you teach. The relationship is pretty much made up of a minute of hello and goodbye at the beginning and end of class. Not a lot of time to chat and even when saying hello and goodbye it's not a great opportunity to get to know them as your attention is often on what you're about to teach and not small talk with your customers.
We always hold a little reception after our runway show with snacks and drinks and it's an amazing opportunity to get to know the parents of your younger students. It's just a lovely time to get to know some of the parents and siblings of your students a little better. I always try to build community within mu studio whenever I can, and this is perfect opportunity!
Builds Community Within your Studio & Encourages Students to Keep Sewing
Another benefit of having an end of session Runway show is the chance for all your students to mix and mingle and see what each other are making. Our classes are usually only up to 8 kids per class and because we teach at so many schools and on almost every day of the week. This doesn't allow many students to get to know each other, except of course the other 7 seven students that are their class with their instructor. I feel coming together like this is a perfect opportunity for all sewing students to get to know each other and see what others are making! This is also the perfect opportunity for some of your younger and less experienced stitchers to get see what the older and more skilled stitchers are making. This is a wonderful way to build aspiration among the younger students. Once they really see what can be done if they keep building on this new skill, they're sure to continue sewing with you and one day get to the level of the older, more experienced students.
Creates Memories
Runway Show memories are lifelong memories! These end of sewing class performances provide sewing students with the opportunity to share what they have been learning with their friends and families. The projects they make become treasured keepsakes, and photographs and videos from this event become the highlights of photo albums and scrapbooks. This is often the first time kids of this age in front of people and therefore more than likely an experience they will not forget.