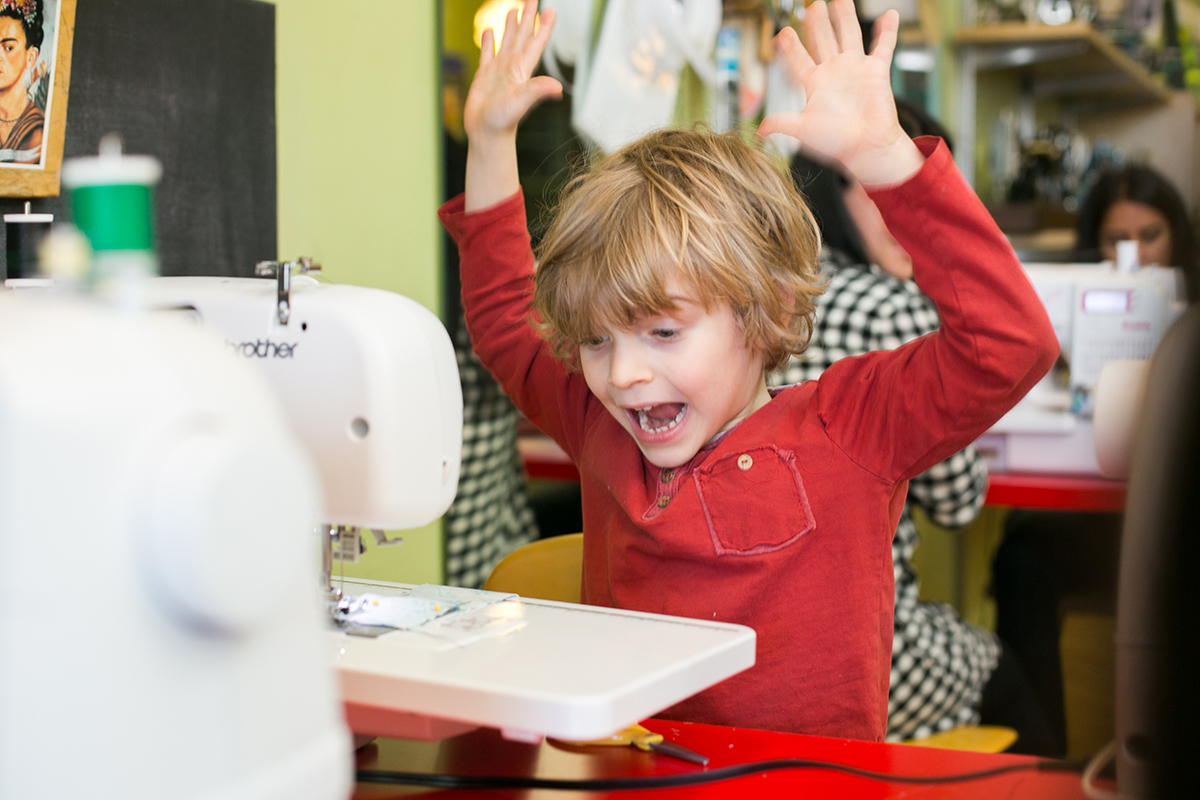 Why I Absolutely Love Teaching Kids to Sew
I have been teaching people of all ages to sew for the last 10 years or so. Everything from the basics of how to operate the sewing machine, to helping adult students create their very own cherished wedding gowns. I've helped so many people make their very own gorgeous sewing projects from a pile of fabric and some thread.
I find that I am extremely lucky to be able to help people design and create something beautiful they'll cherish forever. It's fall, so our kids after school sewing classes for the semester are getting busier and busier. This has gotten me thinking a lot about why teaching kids to sew is one of my absolute favorite things to do!
Reason 1. Arts in School is Becoming a Thing of the Past
More and more, sewing, art classes, music classes or anything to have to do with the arts in general is not taught in our schools anymore. There is such a focus on academics and test scores that the arts are getting pushed aside at alarming rates.
When I teach kids how to sew, I feel very lucky that I am helping to give kids a taste of creative art even if it's after the normal school day. In a sewing class, I can teach children to use their hands to create an adorable stuffed animal, a beautiful piece of clothing or a handmade birthday gift for their parent that I know will be cherished for years and years after they took the class with me. This feels very special!

Reason 2. Adults are So Hard on Themselves
One of the major differences between teaching kids how to sew vs. teaching adults how to sew is how critical adults can be on themselves. In a sewing class full of grownups, often I hear students putting down their work or downgrading their accomplishments. Its hard to hear them playing down their hard work or tearing apart something they just made with love in my class. But with kids it's the complete opposite and I love that! When a child is done with their sewing project they cannot wait to take it home and show everyone they know just how proud of themselves they are for making it. Reason 3. The Children I teach are Making Memories The projects that I teach kids how to make are things that kids and parents are going to keep for a long time. These items are Made with love and come straight from the heart. Parents know this and never throw away the beautiful keepsakes made in the classes I teach. I can't tell you how many times I'm stopped by parents or students I taught years ago when they were younger. They describe the project we they made in my class and tell me how it still sits on a shelf in their house or on their bed in their room. Reason 4. When "Mistakes" Become Design Elements No matter how crazy it looks or how many "mistakes" they made on the project, kids will love it just the same. A student might see out of the lines or something might not turn out quite right because it was cut a little funky, but that doesn't bother most kids! The ears will turn out too short and a kid will use their imagination and decide that it's a dog instead of a rabbit. Or maybe the but closure ends up a little off center? Kids will decide they like it better that way because it's uniquely theirs!

Reason 5. Nothing Beats the Look of Joy on a Child's Face When they Finish Something They Love There is nothing better than watching someone as they finish they're sewing project. There is so much pride in what they have done leading up to this point. You can see the look on their face going from concentration to pure joy at completing this project. They begin showing off this project to everyone they know!  They are just so proud of themselves for completing this thing that just a few short weeks ago, they had no idea how to make!