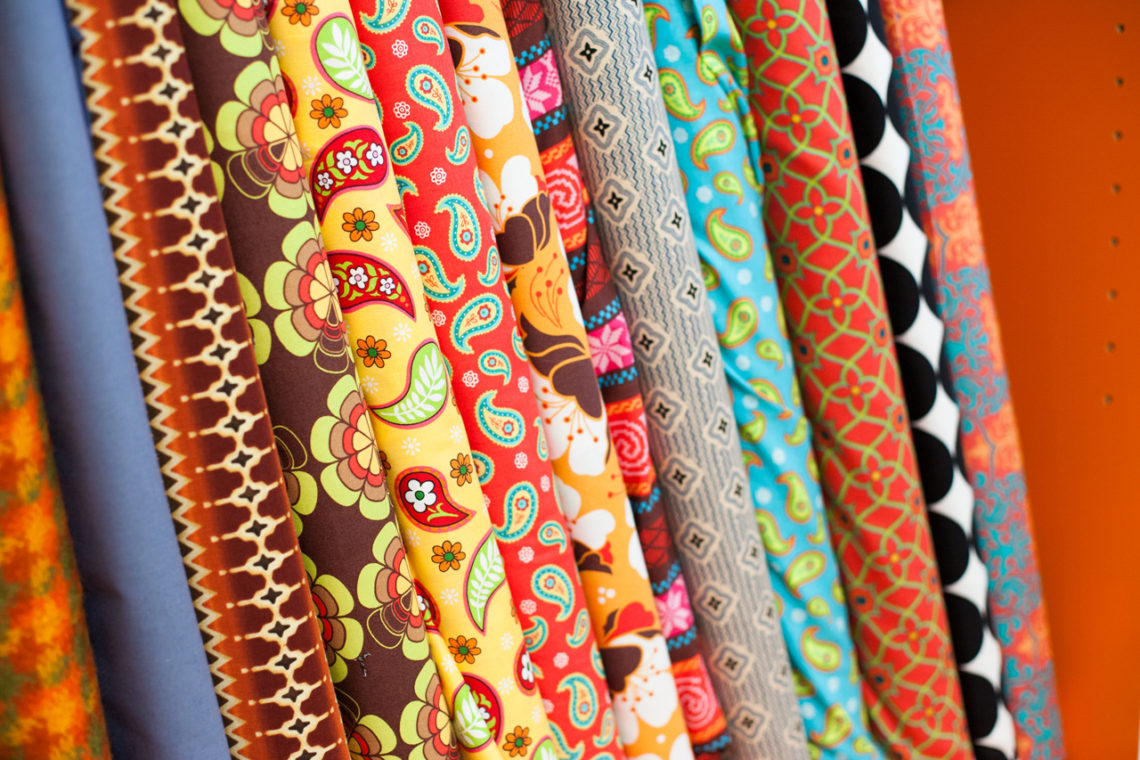 Fabrics & Supplies – What's included in your classes? What's not?
When it comes to the Materials & Supplies used in a sewing class, what's included in the price of the class and what isn't can vary GREATLY from teacher to teacher & business to business!
And even in my own business, we have some classes where all the supplies are included in the price. But then we also offer classes where you are able to purchase supplies before class (from someone else) and bring them with you or purchase them straight from us at the time of the class.
I feel there are pluses and minuses to all of the above.  What' s most important is finding a good balance between giving you students the best sewing class experience, while also making sure your classes are profitable.
I am going to share with you why we do things the way we do at our sewing studio.
Does your business model include selling fabric and supplies to your students?
For us, somewhat yes, but not really.  And what I mean with that is that in our kids classes, we've found that including the cost of the supplies in each class is waaaaaay easier for us! Parent's pay once for the session and that's it. We factor in how many projects will be made in the session and then make sure to include that in the cost of the class.  We don't have to worry about chasing parents down to get paid for the supplies and it just makes things a lot easier for everyone!  Keep in mind that we don't give the kids full reign of the fabric collection.  🙂 There are certain fabrics that we set aside for the kids classes. Maybe they are smaller pieces or they cost a bit less per yard. This is a way we've found to keep our costs down and therefore pass along savings to our customers. The kids still get a tremendous choice when it comes to what they'll make their projects from, but some of the more expensive fabrics we reserve for the customers who are purchasing by the yard.
If you sell fabrics and supplies to your students, do you find it challenging to stay stocked with enough fabrics/supplies to keep your students happy and allow choice?

With our adult sewing classes, we do not include the fabrics in the cost of the class. There are a few reasons we do this.

First of all, adults tend to a bit pickier when it comes to choosing their fabric fabrics for a sewing project! They know what they want and if we only keep a small stock of fabric inventory in our studio, there's a great chance we are not going to have what they are looking for. So to head this off at the pass, we give everyone the option to bring in their own fabric.

But – In our experience, a vast majority of our adult students do not have the time and/or energy to go out and get fabric before our class. So we tend to sell quite a bit of additional fabric to these adult students, creating another source of revenue for our studio.
Keep in mind this isn't a one size fits all strategy and you have to give a lot of thought about what is going to work best for YOU! Let us know how you get around this in your sewing classes! We'd love to know!