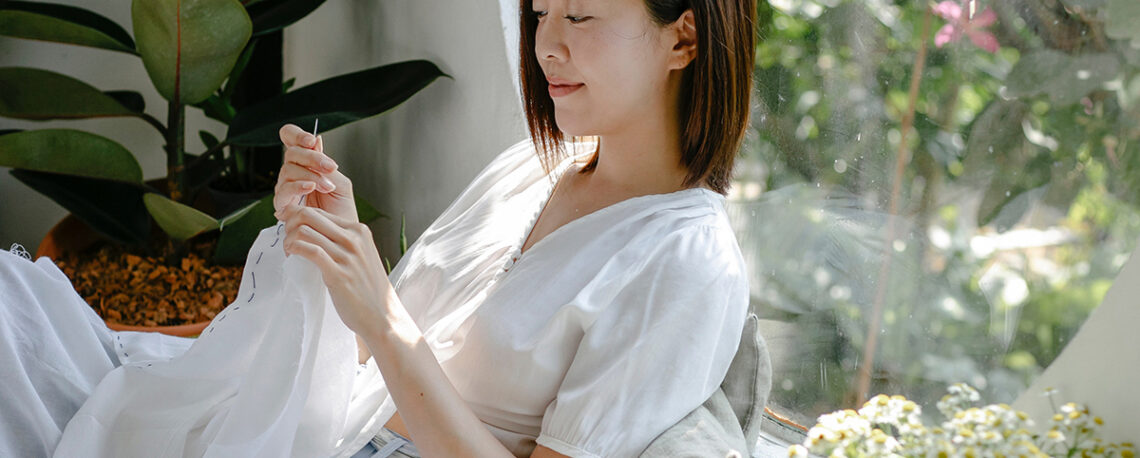 Join us once a month for a LIVE Zoom sewing class where we'll slow down, learn some special hand sewing techniques, & cultivate a creative community, no matter where you live.
Slow Sewing or Stitching is the practice of hand sewing with intention and thoughtfulness while giving us the perfect time to take a break from the hustle and bustle of everyday life. This sewing method focuses on using simple hand stitching techniques and processes and gives total creative freedom.

Slow Sew Club meet the Second Sunday of every Month from 5-7pm eastern time.
Each Month we'll explore and learn a new method of slow sewing.
Monthly Workshop Drop In - $30
6 Month Slow Sew & Textile Club Membership - $120
New Membership Session Starts September 2022
---
Introduction to Darning - Slow Sew & Textile Club
Sunday May 8 , 2022 | 5-7pm eastern time| $30
Darning is a sewing technique for repairing holes or worn areas in fabric or knitting using needle and thread alone.
Supplies Needed:
A piece of woven fabric or garment that needs to be mended
---
Introduction to Smocking - Slow Sew & Textile Club
Sunday June 12 , 2022 | 5-7pm eastern time| $30
Smocking is decoration on a garment created by gathering a section of the material into tight pleats and holding them together with parallel stitches in an ornamental pattern.
Supplies Needed:
Embroidery Thread - Different colors
1 Yard of light colored (solid - not print) cotton fabric.
Writing utensil that shows up on your fabric.
Ruler
---
Upcycled Denim Crochet Rug - Slow Sew & Textile Club
Sunday July 10, 2022 | 5-7pm eastern time| $30
Learn how to use a pair of old jeans and your yarn scraps to create this creative rug using a crochet hook.
Supplies Needed:
An old, unwearable pair of jeans
Yarn - Multiple Colors
---
Introduction Needle Punching - Slow Sew & Textile Club
Sunday August 14 , 2022 | 5-7pm eastern time| $30
Punch needle is a form of needlework closely related to rug hooking. To do punch needle, you use a hollow needle tool to "punch" loops of wool yarn through holes in a woven foundation cloth to create a design. The series of loops (aka the pile) gives the design a rug-like appearance.
Supplies Needed:
---
How our At Home Live Zoom Instruction Works:
Once you sign up. you will receive an email from us regarding your login instructions. You'll also, if applicable, receive access to a password protected personalized web page for the club. This page will include patterns, links to recorded videos of you club so you can re-watch if you choose. It will also include helpful On Demand Videos for an optimal sewing experience at home. Students will of course be able to ask questions and interact with the instructor through the video software while the live instruction is taking place.
---
Boro Stitching: Derived from the Japanese boroboro, meaning something tattered or repaired, boro refers to the practice of reworking and repairing textiles (often clothes or bedding) through piecing, patching and stitching, in order to extend their use.
Appliqué is sewing technique in which fabric patches are layered on a foundation fabric, then stitched in place by hand with the raw edges turned under or covered with decorative stitching.
Embroidery: The craft of decorating fabric or other materials using a needle to apply thread or yarn.
Sashiko: A traditional Japanese embroidery style which dates back to the Edo period (1615 – 1868). It was mostly used by the working class farming and fishing families as to make stronger more practical workwear. A worn-out piece was stitched with layers of old cloth, producing a sturdy garment passed down through generations.
Weaving: Making cloth fabric on a loom by interlacing warp and filling threads. This will be a very basic class where we'll learn to make a rudimentary loom from cardboard and try our hand at weaving a small wall hanging.
English paper piecing is a method of patchwork where fabric is wrapped around fabric shapes made of thin paper cardboard or heavy paper. Once the shapes are wrapped and ready, the sewer will hand sew the shapes together one at a time until the shapes become an intricate design.
Macrame is the art of knotting cord or string in patterns to make decorative articles.
In this workshop, we'll learn basic macrame skills to create a beautiful and useful plant hanger.
---