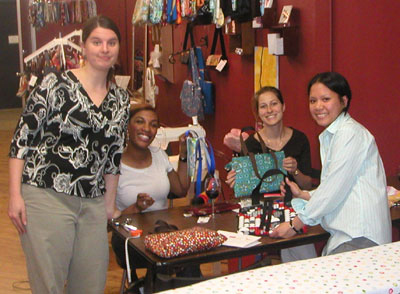 Sew – You think you want to teach sewing?
Life is funny! I never in my wildest dreams thought I would make a career out of teaching people how to sew. Writing this post has been a big trip down memory lane for me. Starting from my very first sewing workshop back in 2004, all the way to today where my amazing staff of sewing teachers are about to dismiss our talented campers from another week of sewing summer camp at the studio. All while I type this blog post from my home office.  And the point of saying all of it is to get my thoughts together about the qualities that I feel make a great sewing teacher. But let me back up just a little before I get to that.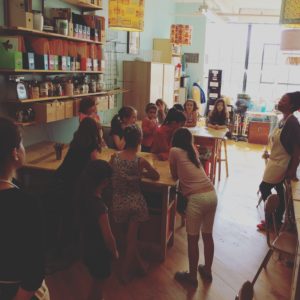 Sewing wasn't even on my radar until about 6 months of working the real world. Wait – I take that back. I did learn to sew as a kid and enjoyed doing it in my 4-H group in rural upstate New York. In fact I even showed sewing projects at the county and state fair, so I guess I was decent at it. But I guess I lost interest as there was absolutely no sewing for me in High School or College! I didn't even really think about it.
Then upon leaving college, I had an job at a top advertising agency in New York all lined before I even graduated. I graduated on May 17th and started my new gig at Ogilvy & Mather on June 1st. I was ready to work! Ready to be in the real world! Ready to be in New York City! I had these crazy dreams of climbing the corporate ladder.
I am just about breaking out in hysterical laughter as I type these words.
It didn't take long to for me to see that this was not the life for me. About 6 months into the new gig, I was home visiting my parents, who still lived in rural upstate NY at the time. For whatever reason I saw my moms old singer sitting there in my childhood home. I think I was just craving creativity so badly that I snatched it from the house and brought it back to my little apartment in Hoboken. I don't even think I told my mom. Even though she NEVER used it, I guess figured she wouldn't let me take it so I snuck it out. Even though I was working in the real world and making a real pay check, there were no extra funds to buy myself a sewing machine. So I stole my moms. What a little sh*t I was.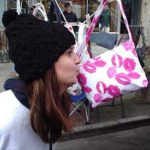 Anyway – some years went by. After I confiscated my moms sewing machine, I started a fairly successful bag making business. I sold customized bad online, back before the days of Etsy. I found out right away that I absolutely cherished the entrepreneurial lifestyle. I loved my little bag business, but knew it wasn't something I could do forever.
While running my little bag biz, I kept getting questions from people who saw my bags about how to sew. They'd ask me how I learned to sew? Would I be willing to teach them how to sew? Um, sure?
That's all it took.
THAT is how I became a sewing teacher. It wasn't anything I set out to do. As with most things in my life, I kind of just ended up doing it. But at this point I knew teaching others how to sew was definitely the business opportunity I wouldn't look back from. I taught my first bag making workshop in 2004 and I was hooked from the start! That's me teaching that very class up the top, in the header photo.
I didn't have a clue what I was doing. But look. Everyone learned how to make a bag. Everyone brought home a project they were EXTREMELY proud of. And I loved every minute of teaching them!
Along the way I have learned SEW much about teaching others how to sew. I have to admit, I probably wasn't really that qualified to teach anyone how to sew when I began. Aside from a few sewing lessons in my 4-H club when I was around 11, I was pretty much self taught. I would spend HOURS on the sewing machine figuring things out. Making things over and over again. There was NO YOU TUBE at this time! Can you even imagine?
But what I did have was the gift of ignorance and a little bit of guts. Like all good entrepreneurs I faked it until I made it. And I am SEW glad I did. Along the way, I have probably taught close to 1000 people how to sew. Here are some of the most important things I have learned while teaching others how to sew! And they are in no particular order.
Patience – Am I patient person? Depends who you ask. My students have ALWAYS said this about me. I think it's why I continued to do it and while people kept coming back. I was always extremely patient with my students and encouraged them along the way. I think I'm a natural teacher in that way. Ask my husband if I'm patient in my own life. You're going to get a completely different story. But I can turn it on when I'm working with my students (and quite easily I might add). And firmly believe it's a quality that every sewing teacher should have. And not just a little. I mean like uber, triple patience.
Organized – There is a lot of crap that goes along with sewing. And by crap, I mean stuff that makes the job of sewing easier. There's of course your machines, your cases, your scissors, your seam rippers, your fabric, all your patterns, pens, pencils, tape measures, tracing paper, tailor's ham, and the list goes on and on.  For the most part, students don't put any of this away. You've got to create a fool proof system stat. or your going to drown in sewing crap. I refuse to drown in sewing crap, so I've become extremely organized.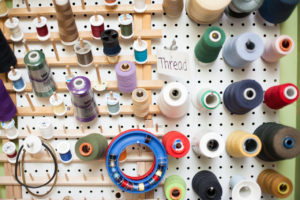 Ignorance – I mentioned it above and I'll mention it again. There has to be an element of ignorance in starting just about any business. But this quality of being blissfully ignorant has really helped me so much when starting out teaching sewing.
I didn't know the things people were going to ask me to teach them. I didn't know that I was even sewing the right way, as I'd never really had a formal lesson. But I was super young and clueless and I forged forward anyway. I can remember one of my very first private lessons. It was with two women who were friends and they were just about the same age as me. I was completely stressed the entire lesson because I didn't know what they wanted to learn until they walked in the door.  (Side note: I've since learned to check in with them beforehand so I can better prepare. Growth.) I just remember this feeling of doubt ing that I really knew what I was talking about the entire lesson? Am I teaching them the right thing? The right way? I honestly can't remember what we worked on in the lesson, but had I thought about any of this before they came in or while I was booking it, I wouldn't have done it. And for that I am so grateful! Also –  I'm happy to report her kids still come to my camp each summer and have been coming since both were old enough.
The ability to think on your feet – So this goes along with the whole preparation skill I have since learned since starting to teach sewing. But no matter how prepared you are,  you're always going to run into situations where you scrap the game plan and have to come up with an alternate plan at a moments notice. I think this is true with ANY kind of teaching, but I was not formally trained as a teacher. I had to learn this skill from practice. From situations arising and then running with it. Again, I'm not good at a lot of things! I will be the first to admit it. But this is a skill that I excel in. I can keep a group of 7 year olds happy for hours with no game plan. I can teach two stay-at-home moms how to use their really complicated and not great quality embroidery machine that I've never laid eyes on. This is what I do.
Kind & Loving – And of course the most important skill of all is to show your students kindness and love in all your interactions. Whether you are teaching kids or adults, they're coming to you because they want to have a fun learning experience. You are going to come across all kinds of learning styles, all different personalities and so many different attitudes. But at the end of day, all anyone wants is to be treated kindly. Those kids that are most frustrating in your classes are probably the ones that need your love the most. Maybe they're not getting the attention they need at home or at school? Try to be there to give them the love they so crave. Or maybe you get an adult student who walks into your student at class time and immediately drains all the energy out of the room. Their stress level is at 10 and their attitude is zero. But they are signed up for your class because they want to change that. Try to help them shed a little bit of the weight of the world off their shoulders. Your love of sewing can show them how to begin to do this.