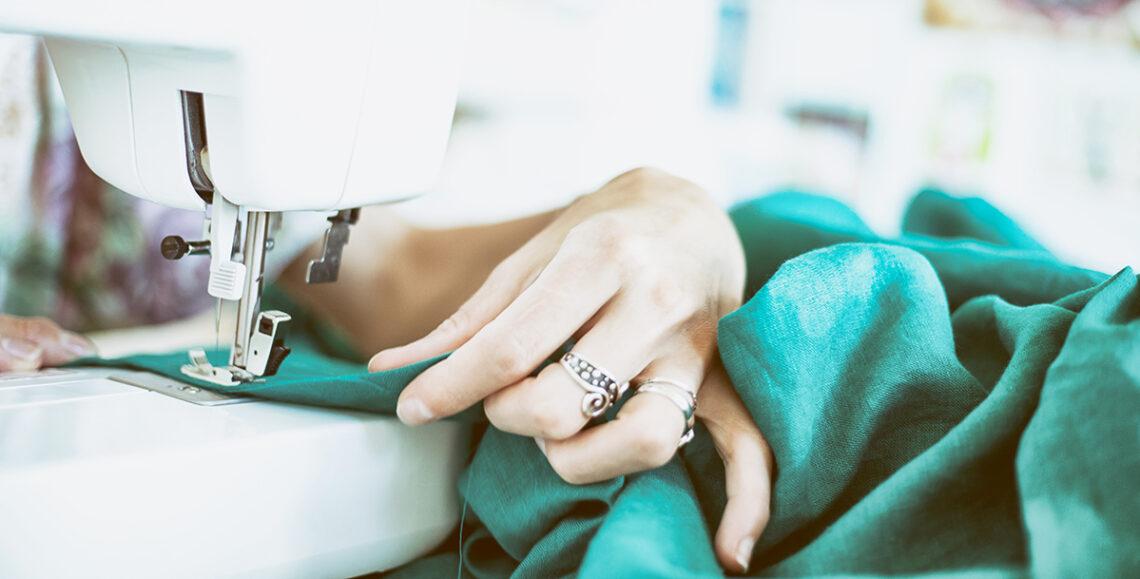 Should You Teach Private Sewing Lessons?
I'm guessing you're here either watching this class live with me or watching the
video replay because you're interested in possibly teaching private sewing
lessons either if your home or in your studio, or even possibly in a public place?

I think that is an awesome idea. If you've decided 2020 is your year to grow your
business, private lessons are a fantastic way to add to your offerings as a
teacher and studio.
People are always emailing or calling and asking about a class for this or a
workshop for that. You cannot possibly hold workshops and classes for all the
things that people are interested in learning how to sew.

That is where the private lessons come in very handy. This way when people ask
about a class for making a custom table runner to fit their giant dining room table.
And then they let you know that they need it made by next tuesday, you don't
have to say, sorry we can't help you out with this. Instead let your potential
customer know that you could easily teach them how to MAKE this table runner
in a one-on-one private sewing lesson.

Private lessons are also a great way to get all the people who inquire about
having custom things sewn for them. Since at my studio we no longer take
custom sewing orders, whenever we get the questions about this, we always let
them know sorry we don't do custom sewing work BUT we'd be more than happy
to teach them how to sew this thing in a private lesson.
- - - - - - - - - - - - - - - -
Now I think that a lot of people shy away from teaching private lessons because
maybe they're afraid of the what-ifs.

● What if the student wants to make this crazy complicated project that is
above my sewing ability and then I look like a fool because I don't know
how to make it?

If this is the reason you're not teaching private lessons, I say get over it.

YES someone might ask you to teach them something you're not super familiar
with. But that's why you find out ahead of time from each and every student what
it is they want to work on BEFORE the lesson.

Here are some of my favorite reasons Why I feel private sewing lessons are a
great addition to any sewing studio.

1. If you have other instructors working for you, but you don't have a lot of
hours for them because you only have a couple of classes a day, private
lessons are ideal.

It allows your teachers to set their own hours for when they're available to
teach lessons. This way they're happy because they're working more and
your studio is busier and earning money even when you can't be there
teaching yourself.

2. Private lessons are a great way to use your studio space when other
classes aren't already going on. If you have a studio, I'm guessing that
there are certain times of the day and the week that aren't all that busy.
That doesn't mean that there aren't going to be people who'd LOVE to
meet you for a lesson at that time. For us, I'm available most weekdays
during the day for private lessons and I have 2 other instructors who will

open up their schedule for lessons before and after other classes they
teach at the studio. Between all of our schedules, the studio is pretty busy
most of the day, almost every day. And because we offer our time at
different hours throughout the day, we can accommodate almost any
students schedule for a private lesson.

3. Private lessons are the perfect way to work with students who have really
specific things they want to learn but that you feel wouldn't be popular as a
workshop or class at your studio.

As I already mentioned, people will have crazy requests for what they want
to make. And it's things that you're not necessarily going to want to have a
group class for.

I can't tell you how many people want to take lessons because they want to
learn how to design and sew bathing suits. We're probably never going to
have a class on making bathing suits because it's a pretty complicated
process. But if someone wants to schedule one-on-one time to learn how to
do this, we're more than happy to oblige. And yes, most of these people
have never touched a sewing machine before in their life. So we do our
best to explain to them, there is going to be a learning curve and they're not
going to magically learn to sew bathing suits in an hour lesson at our
studio. Some will put the time and effort into doing this and some will not.

4. Another reason why private lessons are important is because some people
just learn better when they are the only student. I have had countless
people who I've worked with in private sewing lessons tell me they
desperately need the one-on-one attention a private lesson brings them.

Maybe they have some learning issues, maybe they get distracted when in
a class with other people or maybe they just understand the value of having
someone tending to their every whim. A lot of people will see the value in
having an instructor all to themselves in a sewing lesson.

5. And that brings us to the next big plus, you can charge quite a bit more per
hour for private lessons. Because you are providing your students with the
extra service of conducting a sewing lesson only for them, the price of the
lesson should go up accordingly. They are getting you and your time all to
themselves and I want to make sure that you price this where it needs to
be. Your undivided attention is worth way more than your hourly rate in a
class of 6 people. Make sure you're charging what you should. For us, our
private lessons are $65/hour or you can buy a package of 4 lessons for
$195 which breaks out to be a little less than $50/ hour.

Okay now I want to spend a little time talking about cancellation policies.

1. DO have a cancelation policy.
2. DON'T let people cancel at the last minute.

Private lessons will test you on how well you set your boundaries. People will
show up late and people will cancel at the last minute. So you need to have your
private lesson policies set in STONE and you cannot be afraid to use them.
It has taken me years to get firm with my policies but you really do have to or
people are going to walk all over you. Have your policies visible not only on your
website, but also in your confirmation emails when people sign up for the lesson.
Once people are made aware of the policies, they're going to be a lot less likely
to break them.

Here is our studio cancelation policy as it relates to private sewing lessons:

Thank you for purchasing your private sewing lesson. We're excited to teach you
how to sew! Please be aware of our private & duet sewing lesson policies:

● There are no monetary refunds for canceling any private/duet sewing
lesson.
● Please let us know ASAP if for some reason you have to cancel or
reschedule a private or duet sewing lesson.
● If you cancel or reschedule within 48 hours of your scheduled private/duet
lesson or don't show up, the lesson will be deducted from your package.
● If you show up late for your private/duet lesson, the lesson will still end at
the scheduled time.
● If you are more than 20 minutes late for your private/duet lesson and the
instructor has not heard from you and does not have another lesson
following yours, the instructor will leave and your lesson will be deducted
from your package.
● You're welcome to leave your projects or supplies in our studio between
lessons, but anything left in our studio for more than 3 months (fabric,
projects, sewing machines, tools, etc.) will be donated.
● Any questions, please don't hesitate to contact us!

So at this point, in case you are wondering how you would go about setting up
scheduling software for private lessons, it just got SUPER easy.

I use what is called acuity scheduling and it's a very affordable option that allows
you to put all your available times for private lessons directly onto your website.
This includes not only you, but your other instructors, as well.

This also allows your customers to schedule and pay for their private lessons
without doing a bunch of emailing or texting.

I am in no way getting paid for endorsing Acuity. We started using it about a year
ago for our private lesson and it's way way way cheaper than our previous
service we used and it's 100 times better!

Also it's pretty easy to use and set up.

I highly recommend it if you're going to start offering private lessons for your
studio.

If you liked this free video class today, I would LOVE to know about it!

I would be so excited to hear from you. Write me an email, DM me on social or
send me smoke signals. Nothing makes me happier than when I get some
notification that you got something out of these free video classes.

Or if you think they suck, let me know that as well, I can take it and I am always
looking for ways to improve myself.

Either way I'd love to hear from you.

And please spread the word about these free weekly classes. If you're finding
them helpful, chances are so will other sewing studios who you follow on social

media. They are NOT our competition. We're here to help each other get better
at this and teach more people how to sew. Right?

Screenshot this video, post it and then tag me on your social media
@hipstitchacademy.

Next week's live class is going to be one week from tomorrow. That's Tuesday
January 15th at 1pm eastern time and I'll be talking about Private Sewing
Lessons.

Until then, have an awesome week. BYE.