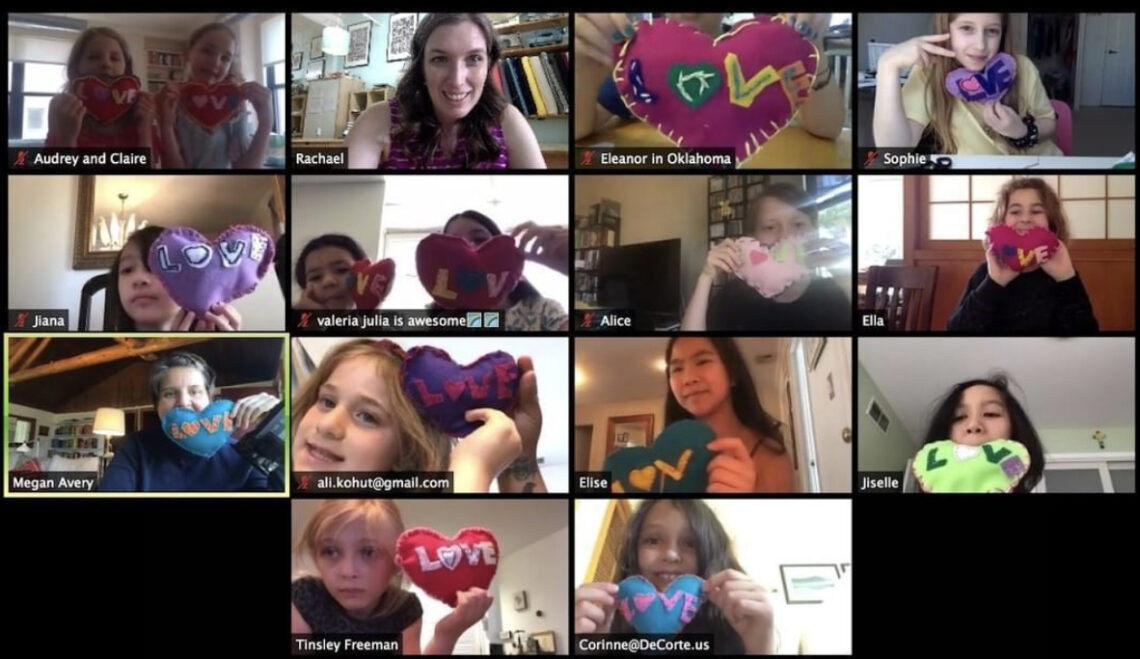 At Home Kids Hand Sewing Private Classes/Parties
About

Project Options

Technology

Testimonials
It's Party Time. Time to Gather ALL Your friends (from anywhere) & We'll help you host Your own At Home Kids Hand Sewing Party
One of our skilled sewing instructors will teach you and your group how to make adorable sewing projects using a needle, thread, felt & stuffing – All over Zoom.
Our 1 1/2 Hour Class will teach all your guests how to make one kids hand sewing project from start to finish.
The recording of the class will be available to class host following the class.
There is a one page pattern that accompanies each project. We'll email a PDF of this to you once you decide on your project.
Zoom Party Pricing:
Up to 6 Participants $120 | Buy
Up to 10 Participants $175 | Buy
Up to 15 Participants $250 | Buy
Up to 25 Participants $350 | Buy
Please note: Supplies are not included in the price of the class.You can order our Hand Sewing Starter Kits for your guests. Shipping is free for 6 or more kits (if sent to one address).
Buy 6 Kits | Buy 10 Kits | Buy 15 Kits | Buy 25 Kits
We can also ship the kits to each of your guests for $20 per kit.
Here is a video for kids to watch prior to the party to prepare.
We'll be using Zoom meetings to do the video instruction. The instructors camera will, for most of the class, show a well lit close up of what is happening with the cutting, pinning and/or sewing of the project. She will be explaining what is happening, as she goes. This camera view will be highlighted when instruction is happening.
Students will be able to interact, ask questions & make comments as needed. We prefer this to be a social class. If you prefer to keep your camera off, that's your choice. You're welcome to keep your mic unmuted, as long as there is not a lot of background noise. If things get too loud, the instructor may turn your mic off for the time being, but please don't take this personally 🙂
Please watch our Kids Hand Sewing On Demand Videos to Prepare for Class.
A note about your First Class: If hand sewing is new for your student, please go into the class with an open mind. We WISH we could be there with all of you, threading your needles and getting your knots out. But unfortunately we cannot. Sometimes the first class can be a little frustrating. But we assure you it gets way better once you learn the ropes (or threads, I should say 🙂
For the first class or two, little stitchers may need a little bit of adult help. But we assure you after he/she gets the hang of it, this can be a class that is done independently by all students.
"My daughter loves this class so much!! Small class size is giving individual attention, she makes projects she loves and is learning to hand sew so quickly!!"
Stephanie C. (Mom to Maddie) – Brooklyn, NY
"Audrey and Claire love this class!!! They had so much fun with both the hand and the machine sewing, equally so. In fact, when they went to their cousins' house the other day they brought their sewing machine and supplies and did projects with them. They are super excited for more sewing sessions. And I was super impressed with their projects, in particular the super cool lunch money cuff. Attaching a couple photos I had taken.
I can't say I have any suggestions other than reminding the kids that they all work at their own pace so they don't feel stressed to keep pace with the fast finishers. For example, with the crazy quilt the girls were convinced they were behind because it took them a while to cut their fabric for the crazy quilt. 🙂 But you guys did a good job with checking in with each kid, which is great.
Appreciate you offering this great virtual camp. Definitely a blessing for us working parents for the kids to have some fun activities to keep them busy this summer in this era of coronavirus."
Audrey & Claire's Mom – Jersey City, NJ
"it was lovely! Thank you so much for the opportunity…she learned a lot and was so proud of her creations. Thank you both for being so encouraging and positive and creating such a great community via Zoom. 🙂 "
Julia's Mom – Linthicum, MD
"Eleanor had a great time, and she has continued to make some projects on her own. She's currently working on an owl stuffie for her owl-loving great grandmother, who is turning 99 next week! She also designed her own embroidered flower which she gave to a family friend. I attached a couple of photos. E's primary comment is that she hopes you keep doing virtual classes so she can do it again from here. 🙂 "
Eleanor's Mom – Stillwater, OK
"Pippi's feeling pretty proud of all she learned this week. She loved it and is super excited about next week. She had school right after we hung up yesterday so she showed her teacher and her entire class the pouch she made."
Penelope's Mom – Seattle, Wa
"The instructors explained things well! There were kits so you don't need to go out and buy everything. This felt more like an alternative to an in person class because the materials were provided. There are two cameras (one of the teachers and the other of the sewing machine) which was great. You can point your camera at a certain angle so the teachers can provide detailed feedback. In the studio the instructors had us gather around a table and that is similar on zoom when we observe them."
Sophie – Long Time Sewing Camper – Hoboken, NJ
"Megan – Our family can't thank you enough for the wonderful sewing classes that you've both provided online during this time. They have been a major source of joy for Eva. And in return for us as well!
You are both very, very special people and it was a pleasure for Eva to get to sew with you both and for me to overhear the fun you were all having. : )"
Eva's Mom – Jersey City, NJ
"Luna really enjoyed the video classes ! Thank you Megan & Rachel for your guidance and kindness. Our girls have been thoroughly inspired by both of you during this time."
Luna's Mom – Jersey City, NJ