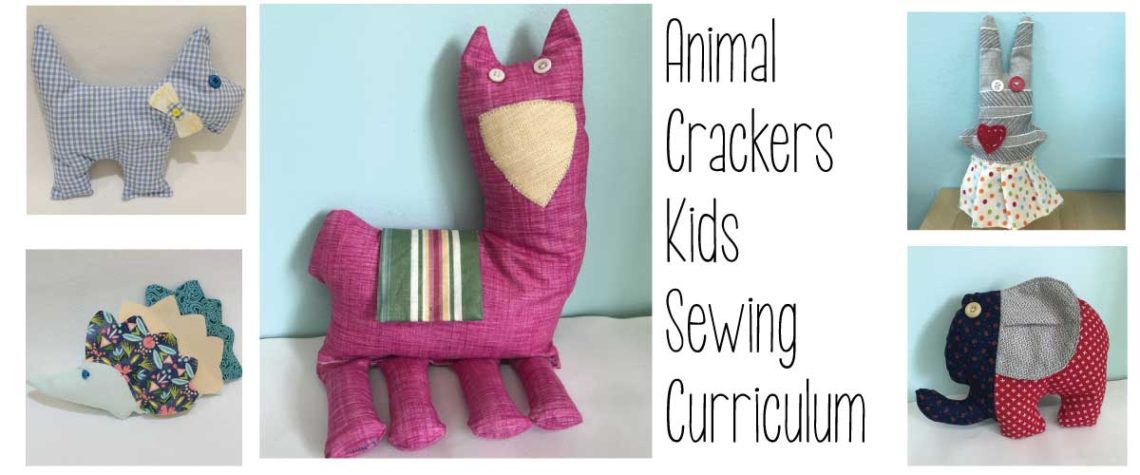 New Kids Sewing Curriculum: Animal Crackers
---
The Animal Crackers sewing project theme was named after the small flat crackers/cookies shaped like animals. The projects in this theme were made with the younger stitcher in mind (1st, 2nd & 3rd graders) but can be made with older kids, as well. The shapes are simple, yet help new seamsters perfect their skills sewing things beyond straight lines. Almost every project has some hand sewing elements in it, as well.
---
---
Each project will take a beginning sewer approximately 2-3 hours to complete.
This sewing project curriculum will have your sewing students learning valuable sewing skills while making simple, yet very useful sewing projects they will love!  All projects require less than 1 yard of basic sewing fabrics. The projects will provide approximately 10-14 hours of class so perfect for a weekly kids after school class or a half-day M-F kids sewing summer camp.
It is important to note: When you purchase this sewing project curriculum from Hipstitch Academy you are entitled to teach & reproduce these sewing projects with your sewing students as many times as you would like. Please note, this is not the case with most sewing projects you find or purchase from other sources. 
– – – – – – – – – – – – – – – – – – – – – – – – – – – – – –
-All projects are simple enough for any beginning stitcher, yet tutorial includes methods for making projects more challenging for more experienced students.
-All projects require 1 yard or less of basic sewing fabric.
– – – – – – – – – – – – – – – – – – – – – – – – – – – – – –
Here is everything included in the Project Package Download:
-Five PDF print-at-home sewing pattern (projects listed above).
-Five PDF print-at-home project tutorials with full color photographs for each step.
-Five Lesson plans for teaching each project (included in tutorial).
-New sewing concepts and vocabulary with each project (included in tutorial).
-Suggestions for shortening and lengthening each project based on class time restraints and students skill levels (included in tutorial).
-Three Hi-Res photographs of all finished projects to be used for marketing purposes.
-Projects that have actually been tested (multiple times) in kids sewing classes.
– – – – – – – – – – – – – – – – – – – – – – – – – – – – – –