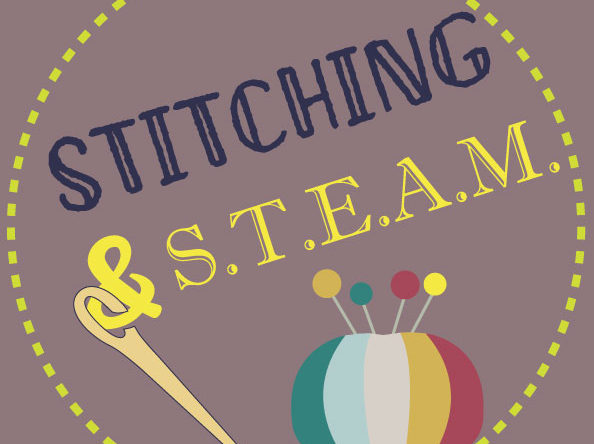 Introduction to Stitching & S.T.E.A.M.
Choo Choo! When ever I hear about S.T.E.A.M. I think of a locomotive. Chugga Chugga Choo Choo.
We all know that S.T.E.M. & STEAM are super-duper (fairly overused) educational buzz words. But you cannot deny Science, Technology, Engineering, Art & Math are important fundamentals in any type of education for kids.
And you REALLY can't deny that all of these things are such important parts of learning how to SEW!
As a sewing teacher and trainer to sewing instructors from all over the world, I can't tell you how many times I hear how parents are very willing to happily sign their kids up for sewing classes. Most parents get it. They understand that sewing is an important life skill for kids. If they learn how to sew they'll know how to hem their pants. If they take sewing classes they'll be able to repair their stuffed animals when they spring leaks and the stuffing starts coming out. Parents totally "get" the many awesome things that come with their kids learning how to sew.
But what about all that OTHER really important things you can learn when you learn how to sew?
This, my friends, is where S.T.E.A.M comes into the picture.
Science teaches us what are things made of and where do they come from? The science in sewing asks What is fabric made of? What makes up natural fabric? What makes up synthetic fabric? How is fabric made? How are the threads put together to make cloth and where do they come from? Why does some fabric smell a certain way? What fabric is best for making bags? What fabric is best for making clothing?
Technology is machinery and equipment developed from the application of scientific knowledge. Sewing technology has changed tremendously over the years. Whether it is technology that is used to do the actual sewing, or the technology use for making fabric? Can you think of what technologies were used and improved over the years to make sewing projects? How has sewing technology changed throughout time? What are some new innovative technologies used today? How has sewing machine technology changed over time?
How do you take a pile of fabric, some thread and a sewing machine and turn it into a dress? What does it take to successfully finish a sewing project? What's a sewing pattern and how do you follow it to sew a project? How you engineer a project is at the forefront of every sewing class. Sewing Workshops follow a series of steps that allow you to turn supplies & tools into a finished item. This is engineering in it's most natural form!
With sewing, the art part comes from how you choose to design your project. What color & type of fabric will your use? Where exactly will you place the pocket? Will your design be reversible? What type of decorative stitching will you use to applique? One of my favorite things about sewing my own projects, as well as teaching others to sew their own projects, is that even though we might all be working on the same thing, no 2 will turn out the same.
What's a seam allowance and how does it affect the size of your project? What's the easiest way to measure how long the strap on your bag should be. How can make sure the drawstring waist on your PJ bottoms is the right size? What's the best way to measure the circumference of your head to make sure your hat measurements are correct?
Let's Do This Together!
People who work with a coach are more likely to succeed! I love helping people, and I can help you avoid common pitfalls and reach your goals!
Get Started Faster | Stay Accountable | Have Fun & Avoid Burnout
Sign Up For Coaching With Megan